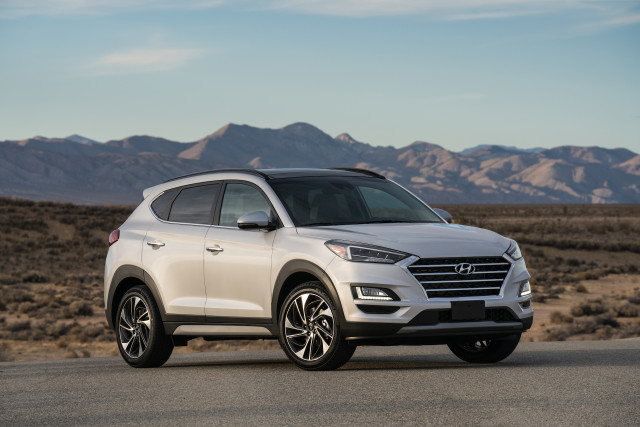 With fierce rivals in its compact-crossover class, the 2020 Tucson offers great warranty coverage as its trump card.
The Nissan Rogue conquers the mean here: it's stellar in nothing, but at least average or better in most ways, including ride quality, price, and safety.
The new 2020 Ford Escape promises sleek styling and a plug-in hybrid model.
The new Subaru Forester puts facial recognition to the fore, as well as top-drawer safety.
The Honda CR-V has oodles of space and style that's made great strides.
As a default in the segment, its real rival is the Toyota RAV4, which was new for the 2019 model year, complete with a hybrid version.
2020 Hyundai TucsonBrowse Used Listings
2020 Honda CR-VBrowse Used Listings
2020 Kia SportageBrowse Used Listings
2020 Mazda CX-5Browse Used Listings
2020 Subaru ForesterBrowse Used Listings
2020 Toyota RAV4Browse Used Listings
Quick Specs

What the 2020 Hyundai Tucson lacks in distinctiveness, it makes up for in value, safety, and features.

The 2020 Honda CR-V hits right at the heart of many buyers' needs: comfortable, spacious, quiet, and efficient.

The 2020 Kia Sportage is refreshed, stylish, and competitive as ever, though its fuel economy is poor.

The 2020 Mazda CX-5 trades family-ready space for fine handling and good power.

The 2020 Subaru Forester is an incredible value among compact crossovers and a former Best Car To Buy winner.

The 2020 Toyota RAV4 covers more bases this year with smartphone compatibility and tough-looking off-road trims.

MSRP From
$23,550
$25,150
$23,990
$25,190
$24,495
$25,950
Gas Mileage
21 MPG City / 28 MPG Hwy
27 MPG City / 35 MPG Hwy
19 MPG City / 30 MPG Hwy
22 MPG City / 31 MPG Hwy
26 MPG City / 33 MPG Hwy
25 MPG City / 38 MPG Hwy
Engine
Regular Unleaded I-4
Intercooled Turbo Regular Unleaded I-4
Regular Unleaded I-4
Regular Unleaded I-4
Regular Unleaded H-4
Regular Unleaded I-4
EPA Class
Small SUV 2WD
Small SUV 4WD
Small SUV 2WD
Small SUV 2WD
Small SUV 4WD
Small SUV 2WD
Style Name
SE FWD
LX AWD
LX FWD
Sport FWD
CVT
LE FWD (GS)
Drivetrain
Front Wheel Drive
All Wheel Drive
Front Wheel Drive
Front Wheel Drive
All Wheel Drive
Front Wheel Drive
Passenger Capacity
5
5
5
5
5
5
Passenger Doors
N/A
N/A
N/A
N/A
N/A
N/A
Body Style
Sport Utility
Sport Utility
Sport Utility
Sport Utility
Sport Utility
Sport Utility
Transmission
Automatic w/OD
CVT w/OD
Automatic w/OD
Automatic w/OD
CVT w/OD
Automatic w/OD
Detailed Spec Comparison
2020 Hyundai Tucson vs. 2020 Honda CR-V
2020 Hyundai Tucson vs. 2020 Kia Sportage
2020 Hyundai Tucson vs. 2020 Mazda CX-5
2020 Hyundai Tucson vs. 2020 Subaru Forester
2020 Hyundai Tucson vs. 2020 Toyota RAV4