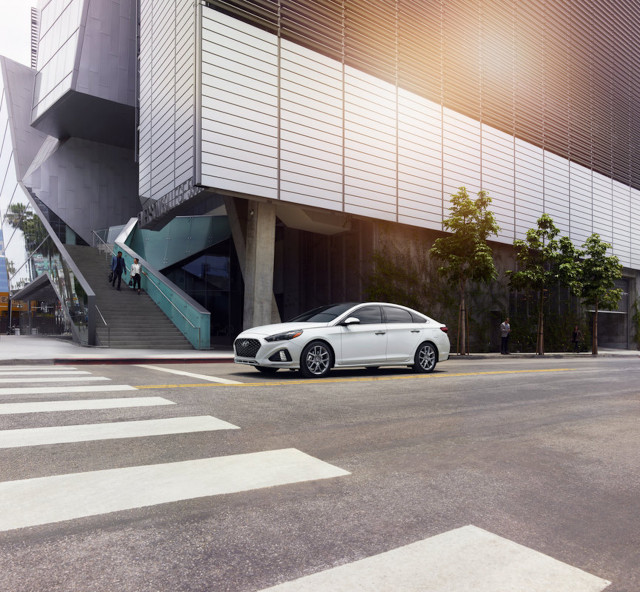 There's no shortage of mid-size sedan choices, but a few automakers have done a good job of making their options stand out.
The latest Honda Accord smacks home runs from several angles, from hybrid fuel economy to style to value.
The Toyota Camry's sold very well; it's more engaging to drive than ever, but the styling's an admitted challenge to the eyes.
The Mazda 6 now has turbo power, but isn't much more exciting to drive.
The Legacy's standard all-wheel drive is a plus, its banality a minus.
Ford won't be selling the Fusion for much longer, but we'll always fondly recall its sharp steering, pretty body, and high-economy hybrid and plug-in models.
2019 Hyundai SonataBrowse Used Listings
2019 Ford FusionBrowse Used Listings
2019 Subaru LegacyBrowse Used Listings
2019 Toyota CamryBrowse Used Listings
2018 Mazda MAZDA6Browse Used Listings
Quick Specs

The 2019 Hyundai Sonata aims squarely for value-minded shoppers who want a long warranty, and hits a bullseye.

The 2019 Ford Fusion's good looks get shoppers in the door, but this sedan is starting to show its age.

The 2019 Subaru Legacy is no thrill machine, but this under-the-radar mid-size sedan is hard to beat for its comfort, safety, and value.

The 2019 Toyota Camry discards its plain vanilla personality in favor of vanilla bean.

The 2018 Mazda 6 is a stylish, good handling sedan that finally has the underhood muscle to match.

MSRP From
$22,650
$22,840
$22,545
$24,095
$21,950
Gas Mileage
23 MPG City / 46 MPG Hwy
17 MPG City / 41 MPG Hwy
20 MPG City / 34 MPG Hwy
22 MPG City / 53 MPG Hwy
23 MPG City / 35 MPG Hwy
Engine
Regular Unleaded I-4
Intercooled Turbo Regular Unleaded I-4
Regular Unleaded H-4
Regular Unleaded I-4
Regular Unleaded I-4
EPA Class
Large Cars
Midsize Cars
Midsize Cars
Midsize Cars
Midsize Cars
Style Name
SE 2.4L
SE FWD
2.5i
L Automatic (SE)
Sport Manual
Drivetrain
Front Wheel Drive
Front Wheel Drive
All Wheel Drive
Front Wheel Drive
Front Wheel Drive
Passenger Capacity
5
5
5
5
5
Passenger Doors
N/A
N/A
N/A
N/A
N/A
Body Style
Sedan
Sedan
Sedan
Sedan
Sedan
Transmission
Automatic w/OD
Automatic w/OD
CVT w/OD
Automatic w/OD
Manual w/OD
Detailed Spec Comparison
2019 Hyundai Sonata vs. 2019 Ford Fusion
2019 Hyundai Sonata vs. 2019 Subaru Legacy
2019 Hyundai Sonata vs. 2019 Toyota Camry
2019 Hyundai Sonata vs. 2018 Mazda MAZDA6