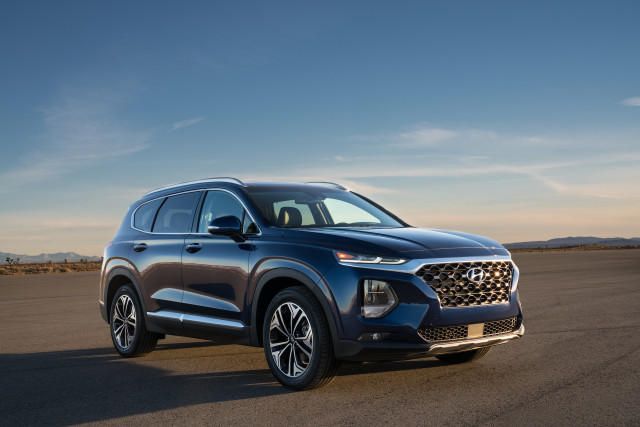 The Hyundai Santa Fe competes with other mid-size, family crossovers that are popular with shoppers.
The Nissan Murano has an out-there style that's aging fairly well, but can get pricey in top trims.
Like the Santa Fe, the Ford Edge has a 2.0-liter turbo-4 that's compelling, but the Santa Fe's airy interior wins our favor.
The Subaru Outback may have a pokey base engine, but its interior room and wagon versatility is always in style.
The Volkswagen Tiguan is the class leader in restraint, although its conservative interior is smart and packaged well.
Like the Santa Fe, the Sorento is built in the U.S.
and wins with lots of features and a standout warranty.
2020 Hyundai Santa FeBrowse Used Listings
2020 Ford EdgeBrowse Used Listings
2020 Kia SorentoBrowse Used Listings
2020 Nissan MuranoBrowse Used Listings
2020 Subaru OutbackBrowse Used Listings
2020 Volkswagen TiguanBrowse Used Listings
Quick Specs

The 2020 Hyundai Santa Fe is a sure bet for safety, space, and swiftness.

The 2020 Ford Edge crossover SUV splits differences nicely, between compact and mid-size, and value and luxury.

The 2020 Kia Sorento skimps on third-row seating, but in all other respects it's a more than respectable crossover SUV.

The 2020 Nissan Murano is stylish and sophisticated, but its powertrain and practicality leave something to be desired.

The 2020 Subaru Outback is more refined than ever and features the same, remarkable off-road capability.

The 2020 Volkswagen Tiguan is a well-rounded crossover SUV, just don't expect to use its third row for anyone bigger than the family dog.

MSRP From
$26,275
$31,100
$26,990
$31,730
$26,645
$24,945
Gas Mileage
20 MPG City / 29 MPG Hwy
19 MPG City / 29 MPG Hwy
18 MPG City / 29 MPG Hwy
20 MPG City / 28 MPG Hwy
23 MPG City / 33 MPG Hwy
20 MPG City / 29 MPG Hwy
Engine
Regular Unleaded I-4
Intercooled Turbo Premium Unleaded I-4
Regular Unleaded I-4
Regular Unleaded V-6
Regular Unleaded H-4
Intercooled Turbo Regular Unleaded I-4
EPA Class
Small SUV 2WD
Small SUV 2WD
Small SUV 2WD
Midsize Station Wagons
Small SUV 4WD
Small SUV 2WD
Style Name
SE 2.4L Automatic FWD
SE FWD
L FWD
FWD S
CVT
2.0T S FWD
Drivetrain
Front Wheel Drive
Front Wheel Drive
Front Wheel Drive
Front Wheel Drive
All Wheel Drive
Front Wheel Drive
Passenger Capacity
5
5
7
5
5
7
Passenger Doors
N/A
N/A
N/A
N/A
N/A
N/A
Body Style
Sport Utility
Sport Utility
Sport Utility
Sport Utility
Sport Utility
Sport Utility
Transmission
Automatic w/OD
Automatic w/OD
Automatic w/OD
CVT w/OD
CVT w/OD
Automatic w/OD
Detailed Spec Comparison
2020 Hyundai Santa Fe vs. 2020 Ford Edge
2020 Hyundai Santa Fe vs. 2020 Kia Sorento
2020 Hyundai Santa Fe vs. 2020 Nissan Murano
2020 Hyundai Santa Fe vs. 2020 Subaru Outback
2020 Hyundai Santa Fe vs. 2020 Volkswagen Tiguan