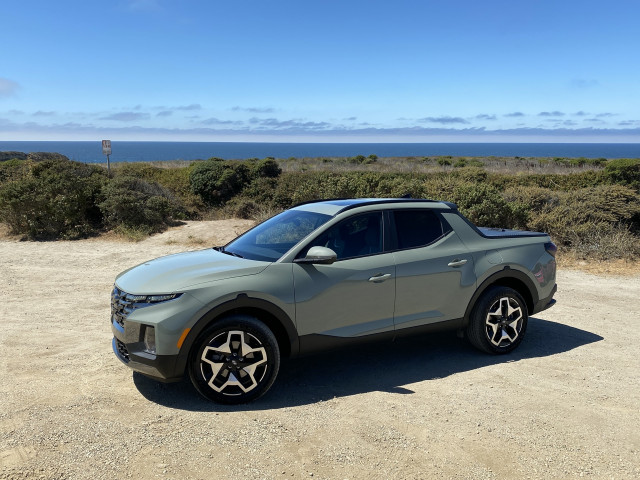 The bed on the 2022 Santa Cruz passes for a small pickup truck, but since it's based on the Hyundai Tucson, its nearest competitors are adventure-ready crossovers such as the Subaru Outback.
It doesn't have the off-road bona fides of the Jeep Gladiator, or the truck pedigree of the Ford Maverick that comes standard as a hybrid.
Like the Santa Cruz, the Honda Ridgeline shares a unibody crossover platform with the larger Pilot that makes it ideal for light-duty truck needs and every-day driving duties.
The redesigned Frontier is bigger than the Santa Cruz, but rides rougher.
2022 Hyundai Santa CruzGet Your Price
2022 Ford MaverickGet Your Price
2022 Nissan FrontierGet Your Price
2021 Honda RidgelineGet Your Price
2021 Jeep GladiatorGet Your Price
2021 Subaru Outback
Quick Specs

Putting the fun in functional, the 2022 Hyundai Santa Cruz combines the utility of a truck with the ride quality of a crossover.

The 2022 Ford Maverick recasts the pickup as a small, high-efficiency Swiss Army knife.

The redesigned 2022 Nissan Frontier is thoroughly modernized with big improvements in ride quality and technology.

The 2021 Honda Ridgeline is the just-right pickup most users really need.

The 2021 Jeep Gladiator, for better or worse, is a Wrangler with a bed. Nothing else will satisfy those who seek exactly that, but competitors are more comfortable and more affordable.

The 2021 Subaru Outback hangs on to its remarkably rugged stance as it grows more refined than ever.

MSRP From
$23,990
$19,995
$27,840
$36,490
$34,960
$26,795
Gas Mileage
19 MPG City / 27 MPG Hwy
22 MPG City / 29 MPG Hwy
17 MPG City / 24 MPG Hwy
18 MPG City / 24 MPG Hwy
16 MPG City / 23 MPG Hwy
23 MPG City / 33 MPG Hwy
Engine
Regular Unleaded I-4
Intercooled Turbo Premium Unleaded I-4
Regular Unleaded V-6
Regular Unleaded V-6
Regular Unleaded V-6
Regular Unleaded H-4
EPA Class
N/A
N/A
N/A
N/A
N/A
Small SUV 4WD
Style Name
SE FWD
XL AWD SuperCrew
King Cab 4x2 S Automatic
Sport AWD
80th Anniversary 4x4 *Ltd Avail*
CVT
Drivetrain
Front Wheel Drive
All Wheel Drive
Rear Wheel Drive
All Wheel Drive
Four Wheel Drive
All Wheel Drive
Passenger Capacity
5
5
4
5
5
5
Passenger Doors
N/A
N/A
N/A
N/A
N/A
N/A
Body Style
Crew Cab
SuperCrew
King Cab
Crew Cab
Crew Cab
Sport Utility
Transmission
Automatic w/OD
Automatic w/OD
Automatic w/OD
Automatic w/OD
Manual w/OD
CVT w/OD
Detailed Spec Comparison
2022 Hyundai Santa Cruz vs. 2022 Ford Maverick
2022 Hyundai Santa Cruz vs. 2022 Nissan Frontier
2022 Hyundai Santa Cruz vs. 2021 Honda Ridgeline
2022 Hyundai Santa Cruz vs. 2021 Jeep Gladiator
2022 Hyundai Santa Cruz vs. 2021 Subaru Outback