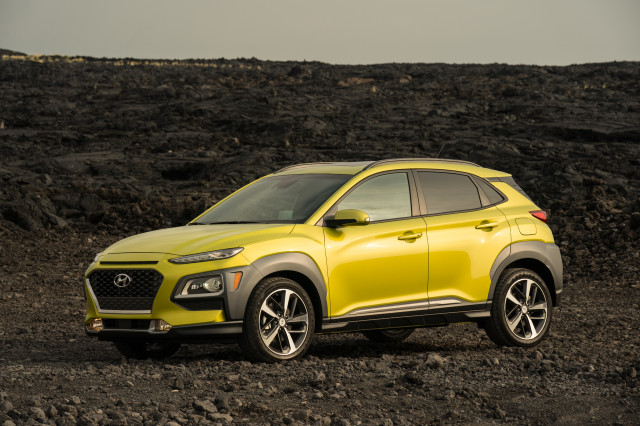 The Hyundai Kona picks some experienced competition as its targets, but there are some softer opponents.
The Honda HR-V should be high on any compact crossover buyer's shopping list due to its efficient space and engine.
If style is a priority, the Jeep Renegade is a natural competitor.
It's the only other quirky pick on the list.
Its interior feels a little cheap, but the Jeep is ready for rugged trails more than the Kona.
Same goes for the Crosstrek: it's slow like the base Kona, and its interior is a little less zesty than the Kona's, but it's more durable than the Jeep's.
The Ford Ecosport and Chevrolet Trax may appeal to traditional buyers, but we advise branching beyond the Ford/GM tree—there are better picks out there.
2021 Hyundai Kona
2021 Chevrolet Trax
2021 Ford Ecosport
2021 Jeep Renegade
2021 Subaru Crosstrek
2020 Honda HR-VBrowse Used Listings
Quick Specs

The 2021 Hyundai Kona wears like statement jewelry, and drives like a bargain.

If you need a spacious new vehicle for the tiniest of parking spaces (and budgets), the Trax is an acceptable but mediocre contender.

The 2021 Ford Ecosport small crossover forsakes its name and doesn't offer much by way of driving excitement or efficiency.

The 2021 Jeep Renegade is the small off-road SUV that doesn't know how to quit.

The 2021 Subaru Crosstrek flexes a more potent available powertrain but still prioritizes safety and capability.

The 2020 Honda HR-V oozes with practicality, though gas mileage and safety equipment have room to improve.

MSRP From
$20,500
$21,400
$20,395
$22,850
$22,245
$20,920
Gas Mileage
25 MPG City / 33 MPG Hwy
23 MPG City / 32 MPG Hwy
23 MPG City / 29 MPG Hwy
21 MPG City / 30 MPG Hwy
22 MPG City / 34 MPG Hwy
26 MPG City / 34 MPG Hwy
Engine
Regular Unleaded I-4
Turbocharged Gas 4-Cyl
Intercooled Turbo Regular Unleaded I-3
Regular Unleaded I-4
Regular Unleaded H-4
Regular Unleaded I-4
EPA Class
Small SUV 2WD
Small Sport Utility Vehicle
Small SUV 2WD
Small SUV 2WD
Small SUV 4WD
Small Station Wagons
Style Name
SE Automatic FWD
FWD 4-Door LS
S FWD
Jeepster FWD *Ltd Avail*
Manual
LX 2WD CVT
Drivetrain
Front Wheel Drive
Front Wheel Drive
Front Wheel Drive
Front Wheel Drive
All Wheel Drive
Front Wheel Drive
Passenger Capacity
5
5
5
5
5
5
Passenger Doors
N/A
N/A
N/A
N/A
N/A
N/A
Body Style
Sport Utility
Sport Utility Vehicle
Sport Utility
Sport Utility
Sport Utility
Sport Utility
Transmission
Automatic w/OD
Automatic
Automatic w/OD
Automatic w/OD
Manual w/OD
CVT w/OD
Detailed Spec Comparison
2021 Hyundai Kona vs. 2021 Chevrolet Trax
2021 Hyundai Kona vs. 2021 Ford Ecosport
2021 Hyundai Kona vs. 2021 Jeep Renegade
2021 Hyundai Kona vs. 2021 Subaru Crosstrek
2021 Hyundai Kona vs. 2020 Honda HR-V