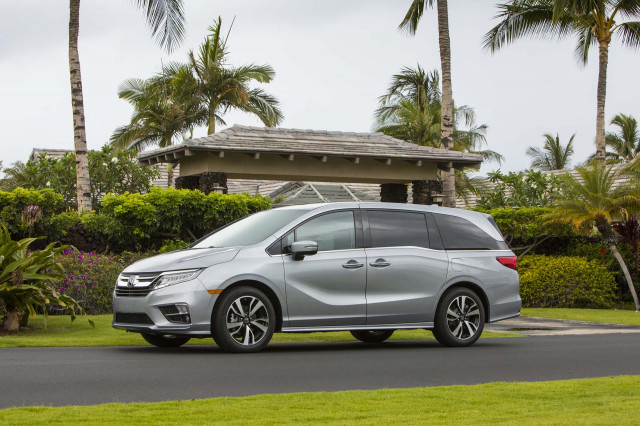 The Chrysler Pacifica dominates the segment in styling and all-around comfort and convenience, but the 2019 Odyssey moves Honda closer to the crown.
The Toyota Sienna is a viable choice, and offers AWD in certain configurations, and the Kia Sedona earns points on comfort and interior quality.
The Dodge Grand Caravan is aged but may offer a significant value to buyers looking for a bargain-basement van that does van-stuff and nothing else.
The best alternative may be from Honda itself in the 2018 Pilot.
With AWD and enough space to throw a Civic in the back, the Pilot does nearly everything the Odyssey can without flexible seating.
2019 Honda OdysseyBrowse Used Listings
2019 Chrysler PacificaBrowse Used Listings
2019 Dodge Grand CaravanBrowse Used Listings
2019 Honda PilotBrowse Used Listings
2019 Kia SedonaBrowse Used Listings
2019 Toyota SiennaBrowse Used Listings
Quick Specs

The 2019 Honda Odyssey knows families well enough to be invited over for Monday game night. It's spacious and versatile and one of our picks in the class.

The 2019 Chrysler Pacifica is a safe pick for families with versatile seating, a spacious cargo area, and relatively good fuel economy.

The 2019 Dodge Grand Caravan has refused to fade away, but its crash-test scores have pushed it into obscurity.

Subtle upgrades make the 2019 Honda Pilot a must-see for three-row crossover shoppers.

The 2019 Kia Sedona is an old-school van that's tardy when it comes to crash-avoidance tech.

The 2019 Toyota Sienna stays competitive with a few updates and the segment's only all-wheel drive option, but rivals deliver better crash-test results.

MSRP From
$30,190
$27,235
$27,040
$31,450
$27,200
$31,315
Gas Mileage
19 MPG City / 28 MPG Hwy
18 MPG City / 28 MPG Hwy
17 MPG City / 25 MPG Hwy
18 MPG City / 27 MPG Hwy
18 MPG City / 24 MPG Hwy
18 MPG City / 27 MPG Hwy
Engine
Regular Unleaded V-6
Regular Unleaded V-6
Regular Unleaded V-6
Regular Unleaded V-6
Regular Unleaded V-6
Regular Unleaded V-6
EPA Class
Minivans 2WD
Minivans 2WD
Minivans 2WD
Small SUV 2WD
Minivans 2WD
Minivans 2WD
Style Name
LX Automatic
L FWD
SE 35th Anniversary Edition Wagon
LX 2WD
L FWD
L FWD 7-Passenger (GS)
Drivetrain
Front Wheel Drive
Front Wheel Drive
Front Wheel Drive
Front Wheel Drive
Front Wheel Drive
Front Wheel Drive
Passenger Capacity
7
7
7
8
7
7
Passenger Doors
N/A
N/A
N/A
N/A
N/A
N/A
Body Style
Passenger Van
Passenger Van
Passenger Van
Sport Utility
Passenger Van
Passenger Van
Transmission
Automatic w/OD
Automatic w/OD
Multi-Speed Automatic w/OD
Automatic w/OD
Automatic w/OD
Automatic w/OD
Detailed Spec Comparison
2019 Honda Odyssey vs. 2019 Chrysler Pacifica
2019 Honda Odyssey vs. 2019 Dodge Grand Caravan
2019 Honda Odyssey vs. 2019 Honda Pilot
2019 Honda Odyssey vs. 2019 Kia Sedona
2019 Honda Odyssey vs. 2019 Toyota Sienna