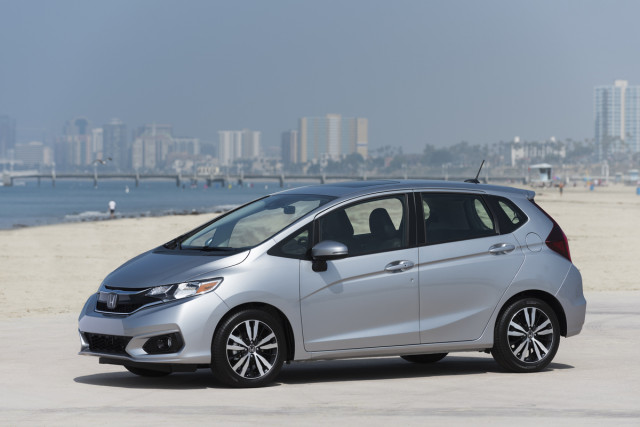 The Honda Fit competes among low-cost hatchbacks that all offer versatile interiors and fuel-efficient powertrains.
The Versa is among the lowest-priced cars on sale today, but it can be somewhat boomy.
The Sonic and Fiesta have withered, and Ford will discontinue the slow-selling Fiesta soon.
The Hyundai Accent and Kia Rio are both new, and value priced, with the Hyundai offering a few more creature comforts than the Rio.
2019 Honda FitBrowse Used Listings
2019 Chevrolet SonicBrowse Used Listings
2019 Ford FiestaBrowse Used Listings
2019 Hyundai AccentBrowse Used Listings
2019 Kia RioBrowse Used Listings
2019 Nissan VersaBrowse Used Listings
Quick Specs

The 2019 Honda Fit is the spiritual successor to what put Honda on the map: it's small, versatile, and fuel efficient.

The 2019 Chevrolet Sonic shows its age but remains a good choice for an inexpensive car with surprising technology.

The 2019 Ford Fiesta can deliver thrills, but it shows its age in too many ways for us to recommend.

The 2019 Hyundai Accent pleasantly reminds us that four-door sedans used to rule the economy-car roost—and did so for a reason.

The 2019 Kia Rio gives used cars a run for their money with its great warranty, good ride, safety tech, and spacious interior.

The 2019 Nissan Versa is the cheapest way to get new-car smell and a full warranty, but rivals deliver plenty for not much more.

MSRP From
$16,190
$15,420
$14,260
$14,995
$15,390
$12,460
Gas Mileage
29 MPG City / 40 MPG Hwy
26 MPG City / 38 MPG Hwy
25 MPG City / 35 MPG Hwy
28 MPG City / 38 MPG Hwy
28 MPG City / 37 MPG Hwy
27 MPG City / 39 MPG Hwy
Engine
Regular Unleaded I-4
Turbocharged Gas I4
Regular Unleaded I-4
Regular Unleaded I-4
Regular Unleaded I-4
Regular Unleaded I-4
EPA Class
Small Station Wagons
Compact Cars
Subcompact Cars
Compact Cars
Compact Cars
Compact Cars
Style Name
LX Manual
4-Door Sedan Manual LS
S Sedan
SE Sedan Manual
S Automatic
S Manual
Drivetrain
Front Wheel Drive
Front Wheel Drive
Front Wheel Drive
Front Wheel Drive
Front Wheel Drive
Front Wheel Drive
Passenger Capacity
5
5
5
5
5
5
Passenger Doors
N/A
4
N/A
N/A
N/A
N/A
Body Style
Hatchback
Sedan
Sedan
Sedan
Sedan
Sedan
Transmission
Manual w/OD
Manual
Manual w/OD
Manual w/OD
Automatic w/OD
Manual w/OD
Detailed Spec Comparison
2019 Honda Fit vs. 2019 Chevrolet Sonic
2019 Honda Fit vs. 2019 Ford Fiesta
2019 Honda Fit vs. 2019 Hyundai Accent
2019 Honda Fit vs. 2019 Kia Rio
2019 Honda Fit vs. 2019 Nissan Versa