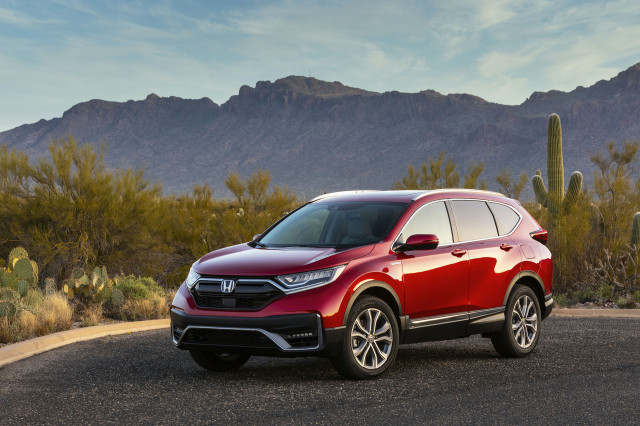 The Ford Escape is new and steers more car-like; we especially appreciate the hybrid version.
The Chevy Equinox is aging, but still popular.
We like the Honda's interior better.
The Nissan Rogue is more affordable in many cases, but the Honda's a classier ride; a new Rogue arrives late in 2020.
RAV4 vs.
CR-V: The two go toe-to-toe for shoppers' attention and there's hardly a bad pick.
The RAV4 makes concessions for its style, the CR-V doesn't make many promises with its looks.
The CR-V is more refined, base RAV4s are better equipped.
The Forester was our Best Car To Buy 2019 and we highly recommend driving it.
2021 Honda CR-VGet Your Price
2021 Chevrolet Equinox
2021 Nissan RogueGet Your Price
2021 Toyota RAV4Get Your Price
2020 Ford EscapeBrowse Used Listings
2020 Subaru ForesterBrowse Used Listings
Quick Specs

The 2021 Honda CR-V wins hundreds of thousands of wallets each year and it's no surprise: it's spacious, comfortable, efficient, and quiet.

The 2021 Chevy Equinox draws closer to the Blazer in size and mission—and in price.

The 2021 Nissan Rogue nudges its way upstream with a more refined ride and more standard features but the powertrain doesn't take any steps forward.

The 2021 Toyota RAV4 is the meat-and-potatoes crossover for many buyers; the RAV4 Prime supplies the all-electric range.

The 2020 Ford Escape takes a more refined tack, and brings its hybrid edition back into vogue.

The 2020 Subaru Forester is an incredible value among compact crossovers and a former Best Car To Buy winner.

MSRP From
$25,350
$23,800
$26,050
$26,350
$24,885
$24,495
Gas Mileage
27 MPG City / 34 MPG Hwy
25 MPG City / 31 MPG Hwy
25 MPG City / 35 MPG Hwy
25 MPG City / 38 MPG Hwy
23 MPG City / 37 MPG Hwy
26 MPG City / 33 MPG Hwy
Engine
Intercooled Turbo Regular Unleaded I-4
Turbocharged Gas I4
Regular Unleaded I-4
Regular Unleaded I-4
Intercooled Turbo Premium Unleaded I-3
Regular Unleaded H-4
EPA Class
Small SUV 2WD
2WD Sport Utility Vehicle
Small SUV 2WD
Small SUV 2WD
Small SUV 2WD
Small SUV 4WD
Style Name
LX 2WD
FWD 4-Door L
FWD S
LE FWD (SE)
S FWD
CVT
Drivetrain
Front Wheel Drive
Front Wheel Drive
Front Wheel Drive
Front Wheel Drive
Front Wheel Drive
All Wheel Drive
Passenger Capacity
5
5
5
5
5
5
Passenger Doors
N/A
N/A
N/A
N/A
N/A
N/A
Body Style
Sport Utility
Sport Utility Vehicle
Sport Utility
Sport Utility
Sport Utility
Sport Utility
Transmission
CVT w/OD
Automatic
CVT w/OD
Automatic w/OD
Automatic w/OD
CVT w/OD
Detailed Spec Comparison
2021 Honda CR-V vs. 2021 Chevrolet Equinox
2021 Honda CR-V vs. 2021 Nissan Rogue
2021 Honda CR-V vs. 2021 Toyota RAV4
2021 Honda CR-V vs. 2020 Ford Escape
2021 Honda CR-V vs. 2020 Subaru Forester