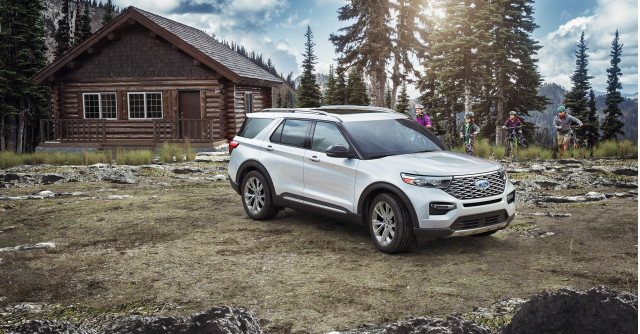 The competition the Explorer faces includes some tough competition, including two of our Best Car To Buy winners.
With its charming styling, spacious interior, and strong value for money, the Kia Telluride won for 2020.
And the Hyundai Palisade, which is related but styled differently, came close.
The Honda Pilot is a BCTB alum too, but it's now one of the most aged in this class.
The Chevy Traverse doesn't have a lot of appeal, although it's just fine.
And the GMC Acadia is a bit smaller and more tough-looking—traits that some relegated to driving the family vehicle might appreciate.
2022 Ford ExplorerGet Your Price
2022 Chevrolet TraverseGet Your Price
2022 GMC AcadiaGet Your Price
2022 Honda PilotGet Your Price
2022 Hyundai PalisadeGet Your Price
2022 Kia TellurideGet Your Price
Quick Specs

The 2022 Ford Explorer hits the spot for families who want more choice in a family SUV—although value for money isn't a strong point.

The 2022 Chevrolet Traverse moves families with quiet confidence.

The 2022 GMC Acadia makes a good all-rounder for those seeking a comfy, well-equipped 3-row SUV.

The 2022 Honda Pilot is one of the oldest three-row crossover designs out there, but it has aged well overall.

The 2022 Hyundai Palisade melds family-wagon utility with luxury-SUV fittings to vault to the top of our three-row SUV ratings.

The 2022 Kia Telluride still tops our family-SUV shopping list with its handsome looks, great space, plentiful features, and long warranty.

MSRP From
$33,245
$33,700
$34,800
$36,830
$33,150
$32,790
Gas Mileage
18 MPG City / 28 MPG Hwy
17 MPG City / 27 MPG Hwy
19 MPG City / 29 MPG Hwy
19 MPG City / 27 MPG Hwy
19 MPG City / 26 MPG Hwy
19 MPG City / 26 MPG Hwy
Engine
Intercooled Turbo Premium Unleaded I-4
Gas V6
Turbocharged Gas I4
Regular Unleaded V-6
Regular Unleaded V-6
Regular Unleaded V-6
EPA Class
Standard SUV 2WD
Sport Utility Vehicles
2WD Sport Utility Vehicle
Small SUV 2WD
Standard SUV 2WD
Small SUV 2WD
Style Name
Base RWD
FWD 4-Door LS w/1LS
FWD 4-Door SLE
Sport 2WD
SE FWD
LX FWD
Drivetrain
Rear Wheel Drive
Front Wheel Drive
Front Wheel Drive
Front Wheel Drive
Front Wheel Drive
Front Wheel Drive
Passenger Capacity
7
8
6
8
8
8
Passenger Doors
N/A
N/A
N/A
N/A
N/A
N/A
Body Style
Sport Utility
Sport Utility
4 Door
Sport Utility
Sport Utility
Sport Utility
Transmission
Automatic w/OD
Automatic
Automatic
Automatic w/OD
Automatic w/OD
Automatic w/OD
Detailed Spec Comparison
2022 Ford Explorer vs. 2022 Chevrolet Traverse
2022 Ford Explorer vs. 2022 GMC Acadia
2022 Ford Explorer vs. 2022 Honda Pilot
2022 Ford Explorer vs. 2022 Hyundai Palisade
2022 Ford Explorer vs. 2022 Kia Telluride