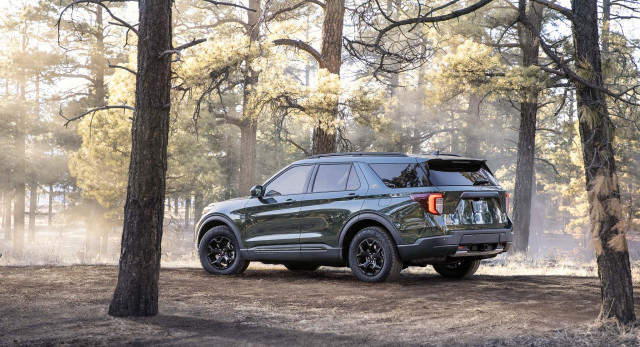 Three-row SUVs are big—literally and figuratively.
The Explorer competes against very stiff competition, including two of our Best Car To Buy winners.
The Kia Telluride won last year thanks to its good looks and better value.
(The Hyundai Palisade is related but wears a different look.) The Honda Pilot is a BCTB alum too, but time and tech has caught up to it.
The Chevy Traverse is big inside, but it lacks anything compelling otherwise.
The GMC Acadia is smaller than the bunch but offers a tough-looking off-road version that may appeal to some.
2021 Ford Explorer
2021 Chevrolet Traverse
2021 GMC Acadia
2021 Honda Pilot
2021 Hyundai Palisade
2021 Kia Telluride
Quick Specs

The 2021 Ford Explorer is recognizable, but new. It should be on every family SUV shopper's list.

The 2021 Chevrolet Traverse is a big family mover with an update on the way next year.

The 2021 GMC Acadia shines most brightly in turbo-4 spec, but rival three-row crossovers put out more lumens.

The 2021 Honda Pilot does a solid impression of a minivan, minus the cultural baggage.

The 2021 Hyundai Palisade builds a bridge to luxury with three rows of seats, big touchscreens, and quilted leather.

The 2021 Kia Telluride earns our Best Car To Buy nod with its excellent features, warranty, space, and style.

MSRP From
$32,925
$29,800
$29,800
$32,550
$32,675
$32,190
Gas Mileage
18 MPG City / 28 MPG Hwy
17 MPG City / 27 MPG Hwy
19 MPG City / 29 MPG Hwy
19 MPG City / 27 MPG Hwy
19 MPG City / 26 MPG Hwy
19 MPG City / 26 MPG Hwy
Engine
Intercooled Turbo Premium Unleaded I-4
Gas V6
Gas I4
Regular Unleaded V-6
Regular Unleaded V-6
Regular Unleaded V-6
EPA Class
Standard SUV 2WD
Sport Utility Vehicles
2WD Sport Utility Vehicle
Small SUV 2WD
Standard SUV 2WD
Small SUV 2WD
Style Name
Base RWD
FWD 4-Door L
FWD 4-Door SL
LX 2WD
SE FWD
LX FWD
Drivetrain
Rear Wheel Drive
Front Wheel Drive
Front Wheel Drive
Front Wheel Drive
Front Wheel Drive
Front Wheel Drive
Passenger Capacity
7
8
7
8
8
8
Passenger Doors
N/A
N/A
N/A
N/A
N/A
N/A
Body Style
Sport Utility
Sport Utility
4 Door
Sport Utility
Sport Utility
Sport Utility
Transmission
Automatic w/OD
Automatic
Automatic
Automatic w/OD
Automatic w/OD
Automatic w/OD
Detailed Spec Comparison
2021 Ford Explorer vs. 2021 Chevrolet Traverse
2021 Ford Explorer vs. 2021 GMC Acadia
2021 Ford Explorer vs. 2021 Honda Pilot
2021 Ford Explorer vs. 2021 Hyundai Palisade
2021 Ford Explorer vs. 2021 Kia Telluride