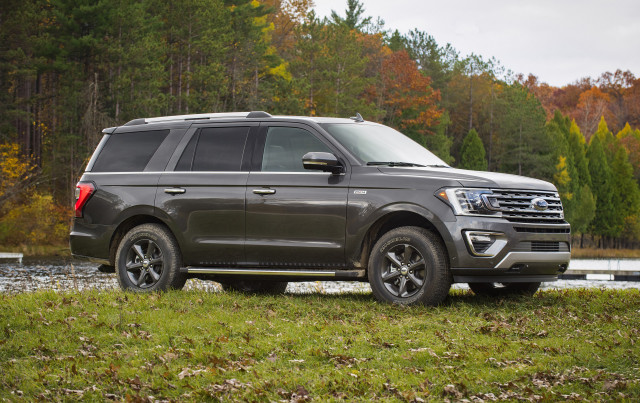 Alternatives to the Ford Expedition come mainly from the American heartland.
If price is less of a concern, take a close look at the fabulous Lincoln Navigator, an Expedition with all its surfaces brought to a fine sheen, with even finer materials applied.
The GMC Yukon challenges the Expedition on capability, but exceeds all but the Platinum trim on luxury.
The nearly identical Chevrolet Tahoe remains a delightfully old-school approach to truck-based SUVs, with a big, brawny V-8 and nearly as much space.
The Toyota Sequoia, with a range-topping model costing less than $70,000, is a more affordable choice.
With the bones from the ultra-rugged Nissan Patrol, the Nissan Armada offers genuine off-road capability.
2020 Ford ExpeditionBrowse Used Listings
2020 Chevrolet TahoeBrowse Used Listings
2020 GMC YukonBrowse Used Listings
2020 Lincoln NavigatorBrowse Used Listings
2020 Nissan ArmadaBrowse Used Listings
2020 Toyota SequoiaBrowse Used Listings
Quick Specs

The 2020 Ford Expedition sets a benchmark for full-size SUVs, with rugged ability and sophisticated sensibilities.

In its last year before a redesign, the 2020 Chevrolet Tahoe offers old-school SUV chops with a heaping helping of additional options and features.

The 2020 GMC Yukon is a business-casual blue-collar SUV with truck-like capability, but many crossovers do it better, and cheaper.

The 2020 Lincoln Navigator makes a massive statements with its style, its power and its exceptional interior.

The 2020 Nissan Armada is an old-school SUV with more charms than its brutish proportions might suggest.

A new TRD Pro package this year adds some excitement to the 2020 Toyota Sequoia but doesn't disguise this design's age.

MSRP From
$52,810
$49,000
$50,600
$76,185
$47,500
$49,980
Gas Mileage
17 MPG City / 23 MPG Hwy
15 MPG City / 22 MPG Hwy
14 MPG City / 23 MPG Hwy
16 MPG City / 22 MPG Hwy
13 MPG City / 19 MPG Hwy
13 MPG City / 17 MPG Hwy
Engine
Twin Turbo Premium Unleaded V-6
Gas/Ethanol V8
Gas V8
Twin Turbo Premium Unleaded V-6
Regular Unleaded V-8
Regular Unleaded V-8
EPA Class
N/A
N/A
N/A
N/A
N/A
N/A
Style Name
XLT 4x2
2WD 4-Door LS
2WD 4-Door SLE
Standard 4x2
4x2 SV
SR5 RWD (SE)
Drivetrain
Rear Wheel Drive
Rear Wheel Drive
Rear Wheel Drive
Rear Wheel Drive
Rear Wheel Drive
Rear Wheel Drive
Passenger Capacity
8
8
8
7
8
8
Passenger Doors
N/A
N/A
N/A
N/A
N/A
N/A
Body Style
Sport Utility
Sport Utility Vehicle
Sport Utility Vehicle
Sport Utility
Sport Utility
Sport Utility
Transmission
Automatic w/OD
Automatic
Automatic
Automatic w/OD
Automatic w/OD
Automatic w/OD
Detailed Spec Comparison
2020 Ford Expedition vs. 2020 Chevrolet Tahoe
2020 Ford Expedition vs. 2020 GMC Yukon
2020 Ford Expedition vs. 2020 Lincoln Navigator
2020 Ford Expedition vs. 2020 Nissan Armada
2020 Ford Expedition vs. 2020 Toyota Sequoia