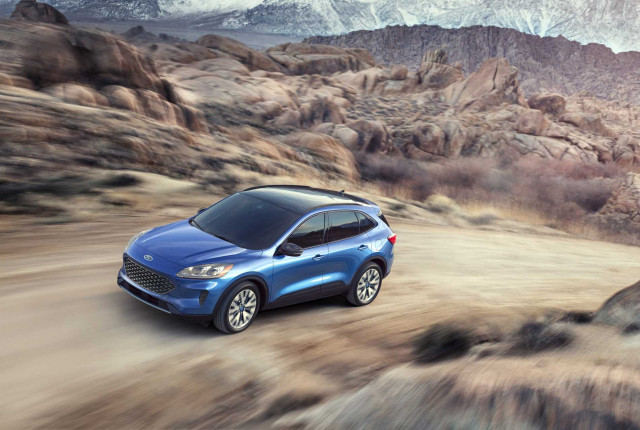 The Escape and Bronco Sport share some powertrains and broad strokes, but they're Irish twins in the Ford crossover lineup.
The Bronco Sport is the brawnier sibling, the Escape (especially the hybrid) is the brains of the family.
The RAV4 and CR-V are sales juggernauts and offer hybrid powertrains, so they should be on any shopper's list.
The Forester is a Best Car to Buy winner thanks to its ability to meld two into one: utility and function with bona fide off-road chops.
The Equinox takes a year off this year ahead of an update next year; discounts should be plentiful.
2021 Ford EscapeGet Your Price
2021 Chevrolet Equinox
2021 Ford Bronco SportGet Your Price
2021 Honda CR-VGet Your Price
2021 Subaru ForesterGet Your Price
2021 Toyota RAV4Get Your Price
Quick Specs

The 2021 Ford Escape is the softer side of the Blue Oval's small crossover 1-2 combo.

The 2021 Chevy Equinox draws closer to the Blazer in size and mission—and in price.

The 2021 Ford Bronco Sport carves out a new all-terrain niche for one of the most beloved off-road names in auto history.

The 2021 Honda CR-V wins hundreds of thousands of wallets each year and it's no surprise: it's spacious, comfortable, efficient, and quiet.

A recent Best Car To Buy winner, the 2021 Subaru Forester notches big wins in utility and safety as one of our most recommended crossover SUVs.

The 2021 Toyota RAV4 is the meat-and-potatoes crossover for many buyers; the RAV4 Prime supplies the all-electric range.

MSRP From
$25,555
$23,800
$27,215
$25,350
$24,795
$26,350
Gas Mileage
23 MPG City / 37 MPG Hwy
25 MPG City / 31 MPG Hwy
21 MPG City / 28 MPG Hwy
27 MPG City / 34 MPG Hwy
26 MPG City / 33 MPG Hwy
25 MPG City / 38 MPG Hwy
Engine
Intercooled Turbo Premium Unleaded I-3
Turbocharged Gas I4
Intercooled Turbo Premium Unleaded I-3
Intercooled Turbo Regular Unleaded I-4
Regular Unleaded H-4
Regular Unleaded I-4
EPA Class
Small SUV 2WD
2WD Sport Utility Vehicle
N/A
Small SUV 2WD
Small SUV 4WD
Small SUV 2WD
Style Name
S FWD
FWD 4-Door L
Base 4x4
LX 2WD
CVT
LE FWD (SE)
Drivetrain
Front Wheel Drive
Front Wheel Drive
Four Wheel Drive
Front Wheel Drive
All Wheel Drive
Front Wheel Drive
Passenger Capacity
5
5
5
5
5
5
Passenger Doors
N/A
N/A
N/A
N/A
N/A
N/A
Body Style
Sport Utility
Sport Utility Vehicle
Sport Utility
Sport Utility
Sport Utility
Sport Utility
Transmission
Automatic w/OD
Automatic
Automatic w/OD
CVT w/OD
CVT w/OD
Automatic w/OD
Detailed Spec Comparison
2021 Ford Escape vs. 2021 Chevrolet Equinox
2021 Ford Escape vs. 2021 Ford Bronco Sport
2021 Ford Escape vs. 2021 Honda CR-V
2021 Ford Escape vs. 2021 Subaru Forester
2021 Ford Escape vs. 2021 Toyota RAV4