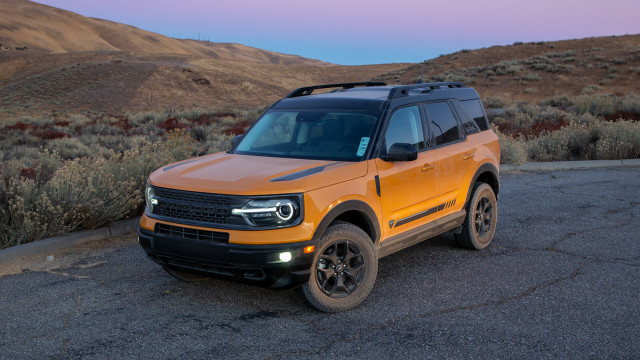 Based on the front-wheel drive Ford Escape, the Ford Bronco Sport climbs a middle ground between the sedate compact crossover and the larger Bronco all-terrain conqueror.
The Jeep Cherokee and the Jeep Compass can be optioned as overlanders to occupy a similar space as the Bronco Sport, and they can all take on the Wrangler for the urban and suburban crowd that may foray off-road on occasion.
Any Subaru crossover appeals to a similar set, but the Crosstrek better compares to the Bronco Sport than the wagon-like proportions of the Subaru Outback.
2021 Ford Bronco Sport
2021 Ford Escape
2021 Ford Bronco
2021 Jeep Cherokee
2021 Jeep Wrangler
2021 Subaru Crosstrek
Quick Specs

The 2021 Ford Bronco Sport carves out a new all-terrain niche for one of the most beloved off-road names in auto history.

The 2021 Ford Escape is the softer side of the Blue Oval's small crossover 1-2 combo.

The 2021 Ford Bronco SUV transforms the burden of the past into a modern marvel.

The 2021 Jeep Cherokee prioritizes off-road capability beyond all else.

The 2021 Jeep Wrangler SUV is an iconic off-roader that endures because it's capable and cool.

The 2021 Subaru Crosstrek flexes a more potent available powertrain but still prioritizes safety and capability.

MSRP From
$27,215
$25,555
$28,500
$27,890
$29,370
$22,245
Gas Mileage
21 MPG City / 28 MPG Hwy
23 MPG City / 37 MPG Hwy
16 MPG City / 22 MPG Hwy
18 MPG City / 31 MPG Hwy
13 MPG City / 25 MPG Hwy
22 MPG City / 34 MPG Hwy
Engine
Intercooled Turbo Premium Unleaded I-3
Intercooled Turbo Premium Unleaded I-3
Intercooled Turbo Regular Unleaded I-4
Regular Unleaded I-4
Intercooled Turbo Premium Unleaded I-4
Regular Unleaded H-4
EPA Class
N/A
Small SUV 2WD
N/A
Small SUV 2WD
N/A
Small SUV 4WD
Style Name
Base 4x4
S FWD
Base 2 Door 4x4
Freedom FWD
80th Anniversary 4x4 *Ltd Avail*
Manual
Drivetrain
Four Wheel Drive
Front Wheel Drive
Four Wheel Drive
Front Wheel Drive
Four Wheel Drive
All Wheel Drive
Passenger Capacity
5
5
4
5
4
5
Passenger Doors
N/A
N/A
N/A
N/A
N/A
N/A
Body Style
Sport Utility
Sport Utility
Sport Utility
Sport Utility
Sport Utility
Sport Utility
Transmission
Automatic w/OD
Automatic w/OD
Manual w/OD
Automatic w/OD
Automatic w/OD
Manual w/OD
Detailed Spec Comparison
2021 Ford Bronco Sport vs. 2021 Ford Escape
2021 Ford Bronco Sport vs. 2021 Ford Bronco
2021 Ford Bronco Sport vs. 2021 Jeep Cherokee
2021 Ford Bronco Sport vs. 2021 Jeep Wrangler
2021 Ford Bronco Sport vs. 2021 Subaru Crosstrek