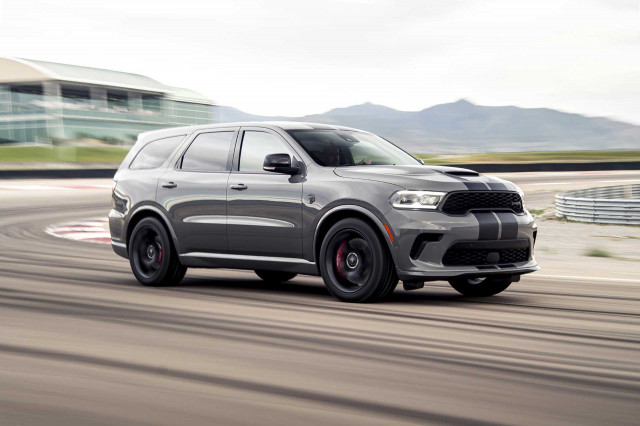 Dodge is going down with the V-8, and the Durango offers three V-8s.
Most automakers are forcing induction to extract greater power and efficiency, such as in the range of turbo-4 and V-6 engines in the Ford Explorer, which also comes as a hybrid.
The Mazda CX-9 takes it even lighter with a turbo-4, but it handles more like a long hatch than a roly-poly three row.
The Kia Telluride and Hyundai Palisade put style and features first, so even though they don't have the performance chops of the Durango they're must-test vehicles.
The smaller five-seat Grand Cherokee shares many attributes of the Durango, like good in-car tech and a design that has aged well.
2021 Dodge DurangoGet Your Price
2021 Ford Explorer
2021 Hyundai Palisade
2021 Jeep Grand CherokeeGet Your Price
2021 Kia Telluride
2021 Mazda CX-9Get Your Price
Quick Specs

If you came to Durango, you came for power. Three V-8 options might leave you in the past, but the past was fast.

The 2021 Ford Explorer is recognizable, but new. It should be on every family SUV shopper's list.

The 2021 Hyundai Palisade builds a bridge to luxury with three rows of seats, big touchscreens, and quilted leather.

The 2021 Jeep Grand Cherokee L performs on road and off, has lots of space, and competes with luxury brands in its top models.

The 2021 Kia Telluride earns our Best Car To Buy nod with its excellent features, warranty, space, and style.

The 2021 Mazda CX-9 crossover SUV rewards drivers with good road manners, but takes a penalty in third-row space.

MSRP From
$33,877
$32,925
$32,675
$33,885
$32,190
$34,160
Gas Mileage
12 MPG City / 26 MPG Hwy
18 MPG City / 28 MPG Hwy
19 MPG City / 26 MPG Hwy
11 MPG City / 26 MPG Hwy
19 MPG City / 26 MPG Hwy
20 MPG City / 28 MPG Hwy
Engine
Regular Unleaded V-6
Intercooled Turbo Premium Unleaded I-4
Regular Unleaded V-6
Regular Unleaded V-6
Regular Unleaded V-6
Intercooled Turbo Regular Unleaded I-4
EPA Class
N/A
Standard SUV 2WD
Standard SUV 2WD
Standard SUV 2WD
Small SUV 2WD
Small SUV 2WD
Style Name
SXT Plus RWD
Base RWD
SE FWD
Laredo X 4x2
LX FWD
Sport FWD
Drivetrain
Rear Wheel Drive
Rear Wheel Drive
Front Wheel Drive
Rear Wheel Drive
Front Wheel Drive
Front Wheel Drive
Passenger Capacity
5
7
8
5
8
7
Passenger Doors
N/A
N/A
N/A
N/A
N/A
N/A
Body Style
Sport Utility
Sport Utility
Sport Utility
Sport Utility
Sport Utility
Sport Utility
Transmission
Automatic w/OD
Automatic w/OD
Automatic w/OD
Automatic w/OD
Automatic w/OD
Automatic w/OD
Detailed Spec Comparison
2021 Dodge Durango vs. 2021 Ford Explorer
2021 Dodge Durango vs. 2021 Hyundai Palisade
2021 Dodge Durango vs. 2021 Jeep Grand Cherokee
2021 Dodge Durango vs. 2021 Kia Telluride
2021 Dodge Durango vs. 2021 Mazda CX-9