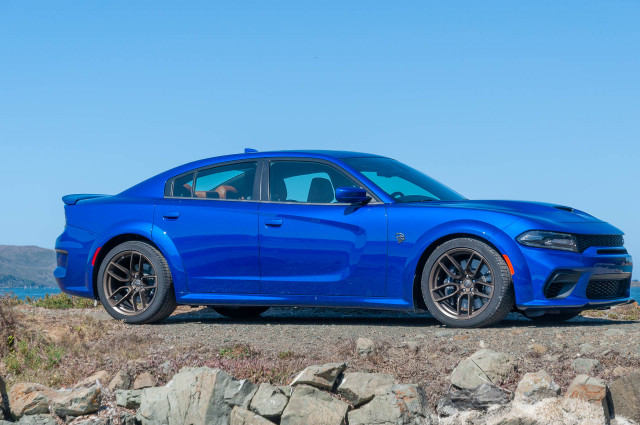 The Chrysler 300, which is the Charger's twin, is its most direct competitor.
Both are based on the same architecture and offer many of the same options, but the 300 lacks the Charger's sportier character and engine offerings.
Cadillac's CT6 offers a more European feel and commands an appropriate price premium, but lacks V-8 options in its bread-and-butter variants.
Nissan's Maxima offers a sporty take on family sedans, but its front-wheel drive platform and midsize roots mean it's smaller and less sporty, plus it suffers from having a CVT.
The Genesis G80 plays in similar space to the Cadillac, and for similar money.
2020 Dodge ChargerBrowse Used Listings
2020 Cadillac CT6Browse Used Listings
2020 Chrysler 300Browse Used Listings
2020 Nissan MaximaBrowse Used Listings
2020 Genesis G80Browse Used Listings
Quick Specs

The Charger may be old, but it's still a charmer, and can pull double duty as a sedate highway cruiser or a drag strip monster.

In its final year, the 2020 Cadillac CT6 is a tempting look at what could have been from the luxury brand.

If it's a certain retro appeal you're after in a four-door sedan, few vehicles can compete with the moderately priced 2020 Chrysler 300.

The 2020 Nissan Maxima is a handsome, relatively sporty sedan in an era when fewer people than ever are interested in one.

The 2020 Genesis G80 offers smooth power and attainable luxury for much less than the competition.

MSRP From
$29,995
$58,995
$30,040
$34,450
$42,550
Gas Mileage
12 MPG City / 30 MPG Hwy
14 MPG City / 27 MPG Hwy
16 MPG City / 30 MPG Hwy
20 MPG City / 30 MPG Hwy
15 MPG City / 26 MPG Hwy
Engine
Regular Unleaded V-6
Gas V6
Regular Unleaded V-6
Premium Unleaded V-6
Regular Unleaded V-6
EPA Class
Large Cars
Large Cars
Large Cars
Midsize Cars
Large Cars
Style Name
SXT RWD
4-Door Sedan 3.6L Luxury
Touring L RWD
S 3.5L
3.8L RWD
Drivetrain
Rear Wheel Drive
All Wheel Drive
Rear Wheel Drive
Front Wheel Drive
Rear Wheel Drive
Passenger Capacity
5
5
5
5
5
Passenger Doors
N/A
4
N/A
N/A
N/A
Body Style
Sedan
Sedan
Sedan
Sedan
Sedan
Transmission
Automatic w/OD
Automatic
Automatic w/OD
CVT w/OD
Automatic w/OD
Detailed Spec Comparison
2020 Dodge Charger vs. 2020 Cadillac CT6
2020 Dodge Charger vs. 2020 Chrysler 300
2020 Dodge Charger vs. 2020 Nissan Maxima
2020 Dodge Charger vs. 2020 Genesis G80