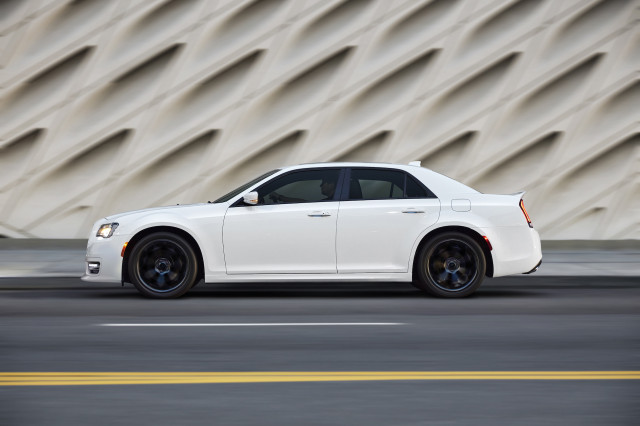 Chrysler's 300 sedans span a wide range of looks, features, and prices, putting them in competition with a wide swath of the market.
The latest Buick LaCrosse offers a front-wheel-drive take on full-size luxury in a very appealing package.
The Chevrolet Impala is similar to the LaCrosse, but its design is a half-generation older.
The Genesis G80 offers a path to even greater luxury than the 300C, but in a more generic looking (and feeling) package.
Nissan's Maxima has an upscale and sporty look and all the modern tech, but its smaller size gives it mid-size space.
2019 Chrysler 300Browse Used Listings
2019 Buick LacrosseBrowse Used Listings
2019 Chevrolet ImpalaBrowse Used Listings
2019 Dodge ChargerBrowse Used Listings
2019 Nissan MaximaBrowse Used Listings
2019 Genesis G80Browse Used Listings
Quick Specs

If it's a certain retro appeal you're after in a four-door sedan, few vehicles can compete with the moderately priced 2019 Chrysler 300.

The 2019 Buick LaCrosse is old-school luxury with a new-school hybrid battery bump. It's a quiet, comfortable sedan that doesn't make many mistakes.

The 2019 Chevrolet Impala does big car hauling with sports car design flair.

Aging gracefully, the 2019 Dodge Charger can be a V-6 family sedan or a genuine American muscle car.

The 2019 Nissan Maxima is a break from the familiar mid-size four-door sedans.

The 2019 Genesis G80 strikes a commendable balance between luxury, performance, and value.

MSRP From
$29,470
$29,570
$28,020
$29,470
$34,050
$42,050
Gas Mileage
16 MPG City / 30 MPG Hwy
20 MPG City / 35 MPG Hwy
19 MPG City / 29 MPG Hwy
13 MPG City / 30 MPG Hwy
20 MPG City / 30 MPG Hwy
15 MPG City / 26 MPG Hwy
Engine
Regular Unleaded V-6
Gas I4
Gas I4
Regular Unleaded V-6
Premium Unleaded V-6
Regular Unleaded V-6
EPA Class
Large Cars
Midsize Cars
Large Cars
Large Cars
Midsize Cars
Large Cars
Style Name
Touring RWD
4-Door Sedan FWD
4-Door Sedan LS w/1LS
SXT RWD
S 3.5L
3.8L RWD
Drivetrain
Rear Wheel Drive
Front Wheel Drive
Front Wheel Drive
Rear Wheel Drive
Front Wheel Drive
Rear Wheel Drive
Passenger Capacity
5
5
5
5
5
5
Passenger Doors
N/A
N/A
N/A
N/A
N/A
N/A
Body Style
Sedan
Sedan
Sedan
Sedan
Sedan
Sedan
Transmission
Automatic w/OD
Automatic
Automatic
Automatic w/OD
CVT w/OD
Automatic w/OD
Detailed Spec Comparison
2019 Chrysler 300 vs. 2019 Buick Lacrosse
2019 Chrysler 300 vs. 2019 Chevrolet Impala
2019 Chrysler 300 vs. 2019 Dodge Charger
2019 Chrysler 300 vs. 2019 Nissan Maxima
2019 Chrysler 300 vs. 2019 Genesis G80