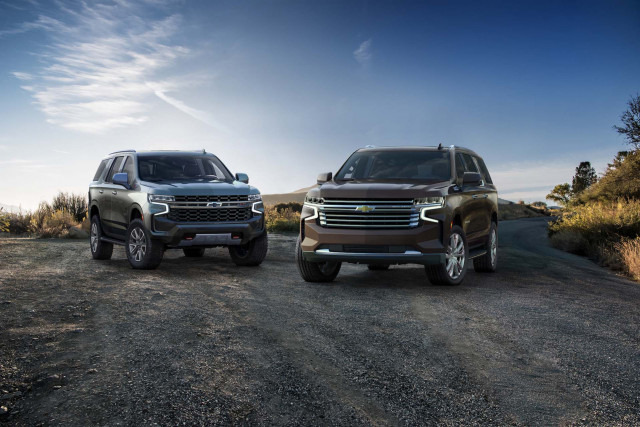 Other than competitors made by YellowBird, the Suburban has few rivals that cast the same large shadow.
The Ford Expedition Max is the crosstown rival with available turbo V-6 power and a classy interior.
The Tahoe is related, and a tad smaller, although that's speaking relatively—both are massive SUVs.
The Escalade is the Suburban's uptown twin, and it now features one of the most technologically advanced cabins of any vehicle.
The Nissan Armada was refreshed for 2021 and offers its own technology and styling updates.
The GMC Yukon XL is also related to the Suburban and gets the same redesign with many similarities.
2021 Chevrolet SuburbanBrowse Used Listings
2021 Cadillac EscaladeBrowse Used Listings
2021 Chevrolet TahoeBrowse Used Listings
2021 Ford ExpeditionBrowse Used Listings
2021 GMC YukonBrowse Used Listings
2021 Nissan ArmadaBrowse Used Listings
Quick Specs

The 2021 Chevy Suburban is a super-size SUV ready for the biggest families with the most cargo. We just wish more safety features came standard.

Roomy, comfortable, and loaded with technology, the 2021 Cadillac Escalade is a rolling fortress of luxury.

The 2021 Chevy Tahoe gets larger, roomier, comfier, and loaded with more features than a cineplex.

The 2021 Ford Expedition SUV crams considerable space and family-friendly amenities into its sizable frame.

Coming to an upper-middle-class neighborhood near you: The 2021 GMC Yukon is richer and bigger, with details and a price tag to match.

The 2021 Nissan Armada is a big, comfortable brute that can tow the boat and haul the family all at once.

MSRP From
$52,300
$76,195
$49,600
$49,625
$51,000
$48,900
Gas Mileage
14 MPG City / 20 MPG Hwy
14 MPG City / 20 MPG Hwy
14 MPG City / 20 MPG Hwy
16 MPG City / 23 MPG Hwy
14 MPG City / 20 MPG Hwy
13 MPG City / 19 MPG Hwy
Engine
Gas V8
Gas V8
Gas V8
Twin Turbo Premium Unleaded V-6
Gas V8
Regular Unleaded V-8
EPA Class
N/A
N/A
N/A
N/A
N/A
N/A
Style Name
2WD 4-Door LS
2WD 4-Door Luxury
2WD 4-Door LS
XL 4x2
2WD 4-Door SLE
4x2 S
Drivetrain
Rear Wheel Drive
Rear Wheel Drive
Rear Wheel Drive
Rear Wheel Drive
Rear Wheel Drive
Rear Wheel Drive
Passenger Capacity
8
7
8
5
8
8
Passenger Doors
N/A
N/A
N/A
N/A
N/A
N/A
Body Style
Sport Utility Vehicle
Sport Utility Vehicle
Sport Utility Vehicle
Sport Utility
Sport Utility Vehicle
Sport Utility
Transmission
Automatic
Automatic
Automatic
Automatic w/OD
Automatic
Automatic w/OD
Detailed Spec Comparison
2021 Chevrolet Suburban vs. 2021 Cadillac Escalade
2021 Chevrolet Suburban vs. 2021 Chevrolet Tahoe
2021 Chevrolet Suburban vs. 2021 Ford Expedition
2021 Chevrolet Suburban vs. 2021 GMC Yukon
2021 Chevrolet Suburban vs. 2021 Nissan Armada