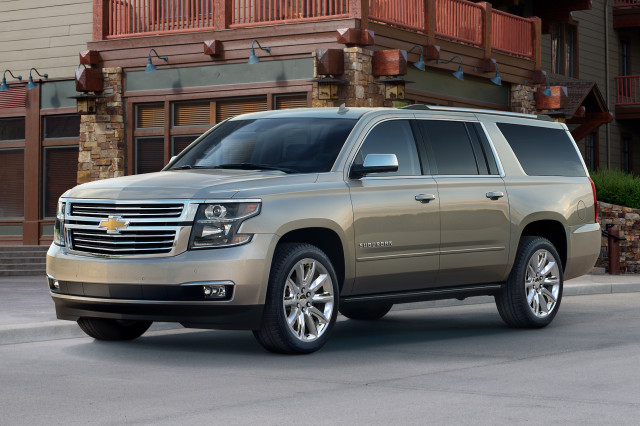 Three-row, full-size SUVs tend to stick around a long time, often longer than their truck counterparts, so it's news when a new one comes along.
As such, the Ford Expedition is riding high off a redesign last year and selling gangbusters, thanks to a smooth ride from an independent suspension.
The Nissan Armada follows a similar recipe and is shorter than the Suburban, closer in size to the Tahoe.
Toyota's Sequoia is very long in the tooth, but durable and reliable as they come.
If you're going to look at a Suburban, you should also check out the GMC Yukon XL, and if you're considering a fully-loaded Chevy, the Cadillac Escalade ESV could suit your needs too.
2019 Chevrolet SuburbanBrowse Used Listings
2019 Cadillac EscaladeBrowse Used Listings
2019 Ford ExpeditionBrowse Used Listings
2019 GMC YukonBrowse Used Listings
2019 Nissan ArmadaBrowse Used Listings
2019 Toyota SequoiaBrowse Used Listings
Quick Specs

The 2019 Chevrolet Suburban is a superlative highway hauler, capable of lugging nine passengers, their gear, and an 8,300-pound trailer. You won't find that capability in a crossover.

The 2019 Cadillac Escalade can hold its own against more modern designs in many ways even if it's definitely showing its age.

A new full-size SUV benchmark, the 2019 Ford Expedition tops almost every category from towing to third-row comfort.

The 2019 GMC Yukon is an old-school SUV with plenty of tech and capability for new-school buyers.

The 2019 Nissan Armada is a wide family team bus with plenty of capability and a relatively low price tag.

The 2019 Toyota Sequoia's ghastly fuel economy ratings are one of many reminders that this SUV has been around for well over a decade.

MSRP From
$50,800
$75,195
$52,130
$49,600
$47,100
$49,050
Gas Mileage
14 MPG City / 22 MPG Hwy
14 MPG City / 23 MPG Hwy
16 MPG City / 24 MPG Hwy
14 MPG City / 23 MPG Hwy
13 MPG City / 19 MPG Hwy
13 MPG City / 17 MPG Hwy
Engine
Gas/Ethanol V8
Gas V8
Twin Turbo Premium Unleaded V-6
Gas V8
Regular Unleaded V-8
Regular Unleaded V-8
EPA Class
N/A
N/A
N/A
N/A
N/A
N/A
Style Name
2WD 4-Door 1500 LS
2WD 4-Door
XLT 4x2
2WD 4-Door SLE
4x2 SV
SR5 RWD (SE)
Drivetrain
Rear Wheel Drive
Rear Wheel Drive
Rear Wheel Drive
Rear Wheel Drive
Rear Wheel Drive
Rear Wheel Drive
Passenger Capacity
8
7
8
8
8
8
Passenger Doors
N/A
N/A
N/A
N/A
N/A
N/A
Body Style
Sport Utility Vehicle
Sport Utility Vehicle
Sport Utility
Sport Utility Vehicle
Sport Utility
Sport Utility
Transmission
Automatic
Automatic
Automatic w/OD
Automatic
Automatic w/OD
Automatic w/OD
Detailed Spec Comparison
2019 Chevrolet Suburban vs. 2019 Cadillac Escalade
2019 Chevrolet Suburban vs. 2019 Ford Expedition
2019 Chevrolet Suburban vs. 2019 GMC Yukon
2019 Chevrolet Suburban vs. 2019 Nissan Armada
2019 Chevrolet Suburban vs. 2019 Toyota Sequoia