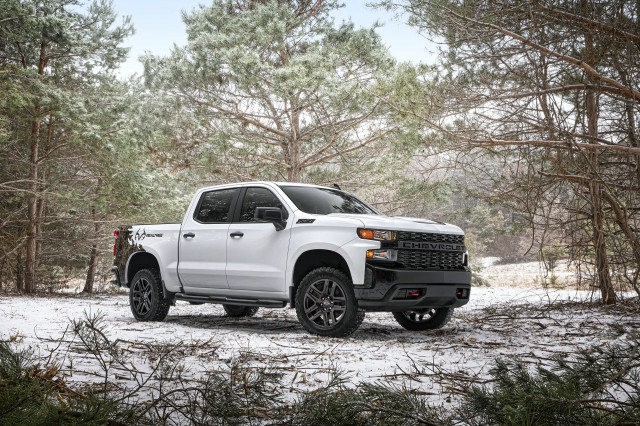 The Silverado is a solid, capable pickup truck with more powertrain options than the aging Toyota Tundra and the streamlined Nissan Titan.
Despite the LTZ and High Country trims, it pales to the more refined finish of its GM sibling, the GMC Sierra.
The Ford F-150 is the bestselling vehicle decades over for a reason, and for 2021 comes with hybrid powertrains in advance of a forthcoming all-electric version.
The Ram 1500 might be the best of the bunch, with a ride quality like a crossover SUV and even more towing capacity than the Silverado.
2021 Chevrolet Silverado 1500Get Your Price
2021 Ford F-150Get Your Price
2021 GMC Sierra 1500Get Your Price
2021 Nissan TitanGet Your Price
2021 Toyota TundraGet Your Price
2021 Ram 1500Get Your Price
Quick Specs

The 2021 Chevy Silverado offers ample power, cargo volume, and towing capacity, but it lags rivals in safety ratings and interior refinement.

The 2021 Ford F-150 ushers the bestselling truck into the electrified age.

The 2021 GMC Sierra has deep beds and big tow ratings, but low crash-test scores.

The 2021 Nissan Titan doesn't cast the same wide net as other trucks, but its higher starting price comes with good standard features.

The 2021 Toyota Tundra leans hard into its brand name and its reputation for durability.

The 2021 Ram 1500 full-size pickup is heading in the right direction with just a couple of small detours.

MSRP From
$29,300
$29,290
$30,100
$36,950
$34,125
$32,795
Gas Mileage
14 MPG City / 23 MPG Hwy
14 MPG City / 26 MPG Hwy
14 MPG City / 26 MPG Hwy
15 MPG City / 21 MPG Hwy
13 MPG City / 17 MPG Hwy
10 MPG City / 33 MPG Hwy
Engine
Gas V6
Regular Unleaded V-6
Gas V6
Premium Unleaded V-8
Regular Unleaded V-8
Regular Unleaded V-6
EPA Class
N/A
N/A
N/A
N/A
N/A
N/A
Style Name
2WD Reg Cab 140" Work Truck
XL 2WD Reg Cab 6.5' Box
2WD Reg Cab 140"
4x2 King Cab S
SR Double Cab 6.5' Bed 5.7L (Natl)
Express 4x2 Reg Cab 6'4" Box
Drivetrain
Rear Wheel Drive
Rear Wheel Drive
Rear Wheel Drive
Rear Wheel Drive
Four Wheel Drive
Rear Wheel Drive
Passenger Capacity
3
3
3
6
6
3
Passenger Doors
N/A
N/A
N/A
N/A
N/A
N/A
Body Style
Regular Cab Pickup
Regular Cab Styleside
Regular Cab Pickup
King Cab
Double Cab
Regular Cab
Transmission
Automatic
Automatic w/OD
Automatic
Automatic w/OD
Automatic w/OD
Automatic w/OD
Detailed Spec Comparison
2021 Chevrolet Silverado 1500 vs. 2021 Ford F-150
2021 Chevrolet Silverado 1500 vs. 2021 GMC Sierra 1500
2021 Chevrolet Silverado 1500 vs. 2021 Nissan Titan
2021 Chevrolet Silverado 1500 vs. 2021 Toyota Tundra
2021 Chevrolet Silverado 1500 vs. 2021 Ram 1500