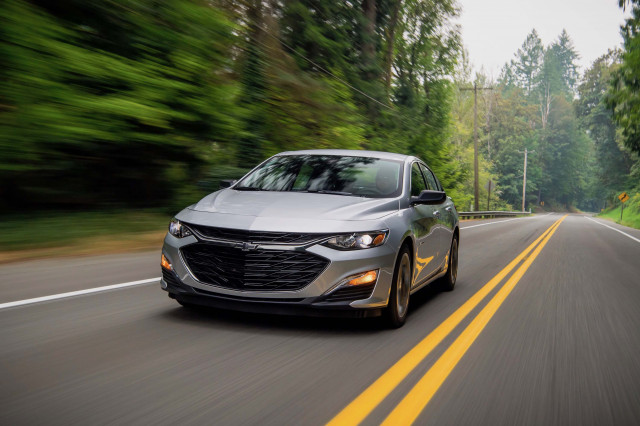 Mid-size sedan buyers are spoiled for choice.
The Honda Accord is our favorite—we named it our Best Car to Buy 2018, after all.
It's refined, roomy, and genuinely fun to drive.
The 2019 Ford Fusion won the same award a while back.
It's still a great choice, but Ford's mid-sizer is showing its age.
The segment's fun-to-drive champ is the Mazda 6, as long as you can get over its frustrating infotainment software.
The Toyota Camry has a roomy interior and the allure of strong V-6 power, although it feels off the pace in some ways.
This year's newsmaker is the redesigned Nissan Altima.
Its looks are attention-grabbing and it's now offered with all-wheel drive.
2019 Chevrolet MalibuBrowse Used Listings
2019 Ford FusionBrowse Used Listings
2019 Nissan AltimaBrowse Used Listings
2019 Subaru LegacyBrowse Used Listings
2019 Toyota CamryBrowse Used Listings
2018 Mazda MAZDA6Browse Used Listings
Quick Specs

The 2019 Chevrolet Malibu is a likeable sedan, but it requires some compromises when it comes to essential safety tech.

The 2019 Ford Fusion's good looks get shoppers in the door, but this sedan is starting to show its age.

The 2019 Nissan Altima is a sharper sedan now, made better with great active safety features and a newly available turbo-4.

The 2019 Subaru Legacy is no thrill machine, but this under-the-radar mid-size sedan is hard to beat for its comfort, safety, and value.

The 2019 Toyota Camry discards its plain vanilla personality in favor of vanilla bean.

The 2018 Mazda 6 is a stylish, good handling sedan that finally has the underhood muscle to match.

MSRP From
$22,090
$22,840
$24,000
$22,545
$24,095
$21,950
Gas Mileage
22 MPG City / 43 MPG Hwy
17 MPG City / 41 MPG Hwy
25 MPG City / 39 MPG Hwy
20 MPG City / 34 MPG Hwy
22 MPG City / 53 MPG Hwy
23 MPG City / 35 MPG Hwy
Engine
Turbocharged Gas I4
Intercooled Turbo Regular Unleaded I-4
Regular Unleaded I-4
Regular Unleaded H-4
Regular Unleaded I-4
Regular Unleaded I-4
EPA Class
Midsize Cars
Midsize Cars
Midsize Cars
Midsize Cars
Midsize Cars
Midsize Cars
Style Name
4-Door Sedan L w/1VL
SE FWD
2.5 S Sedan
2.5i
L Automatic (SE)
Sport Manual
Drivetrain
Front Wheel Drive
Front Wheel Drive
Front Wheel Drive
All Wheel Drive
Front Wheel Drive
Front Wheel Drive
Passenger Capacity
5
5
5
5
5
5
Passenger Doors
4
N/A
N/A
N/A
N/A
N/A
Body Style
Sedan
Sedan
Sedan
Sedan
Sedan
Sedan
Transmission
Automatic
Automatic w/OD
CVT w/OD
CVT w/OD
Automatic w/OD
Manual w/OD
Detailed Spec Comparison
2019 Chevrolet Malibu vs. 2019 Ford Fusion
2019 Chevrolet Malibu vs. 2019 Nissan Altima
2019 Chevrolet Malibu vs. 2019 Subaru Legacy
2019 Chevrolet Malibu vs. 2019 Toyota Camry
2019 Chevrolet Malibu vs. 2018 Mazda MAZDA6