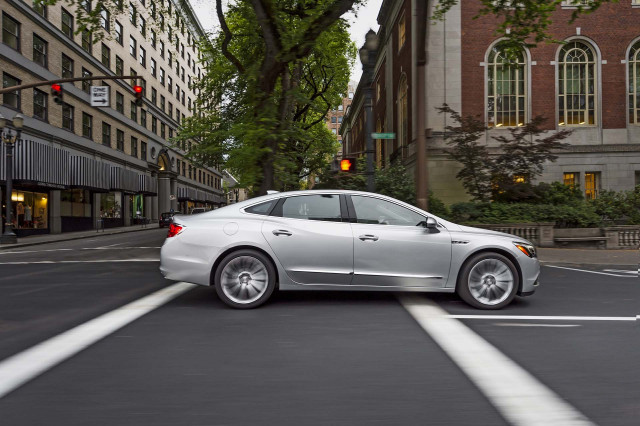 The Buick LaCrosse competes against near-luxury and luxury full-size sedans that prioritize ride comfort.
The Chrysler 300 is relatively aged, but comfortable and quiet.
It lacks a hybrid powertrain like the Buick, but offers an old-school V-8 underhood for traditionalists.
The Kia Cadenza is similarly quiet, but its anonymous styling compared to the rest of the class won't turn many heads.
The Lexus ES is new this year, with an expressive look and hybrid option.
We haven't yet driven it, but will report back once we do.
The Nissan Maxima is the sporty pick in the class, but its interior isn't as spacious as others.
The Toyota Avalon is new for 2019 and offers a hybrid powertrain as a reasonable extra-cost add-on.
2019 Buick LacrosseBrowse Used Listings
2019 Chrysler 300Browse Used Listings
2019 Kia CadenzaBrowse Used Listings
2019 Lexus ESBrowse Used Listings
2019 Nissan MaximaBrowse Used Listings
2019 Toyota AvalonBrowse Used Listings
Quick Specs

The 2019 Buick LaCrosse is old-school luxury with a new-school hybrid battery bump. It's a quiet, comfortable sedan that doesn't make many mistakes.

If it's a certain retro appeal you're after in a four-door sedan, few vehicles can compete with the moderately priced 2019 Chrysler 300.

The 2019 Kia Cadenza offers upscale features, space, and comfort at a mainstream price.

The 2019 Lexus ES deletes "sedate" from its vocabulary.

The 2019 Nissan Maxima is a break from the familiar mid-size four-door sedans.

The 2019 Toyota Avalon takes a hard right into sporty territory to take on rivals from Nissan and Chrysler.

MSRP From
$29,570
$29,470
$33,100
$39,750
$34,050
$35,650
Gas Mileage
20 MPG City / 35 MPG Hwy
16 MPG City / 30 MPG Hwy
20 MPG City / 27 MPG Hwy
22 MPG City / 45 MPG Hwy
20 MPG City / 30 MPG Hwy
22 MPG City / 44 MPG Hwy
Engine
Gas I4
Regular Unleaded V-6
Regular Unleaded V-6
Regular Unleaded V-6
Premium Unleaded V-6
Regular Unleaded V-6
EPA Class
Midsize Cars
Large Cars
Large Cars
Midsize Cars
Midsize Cars
Midsize Cars
Style Name
4-Door Sedan FWD
Touring RWD
Premium Sedan
ES 350 FWD
S 3.5L
XLE (SE)
Drivetrain
Front Wheel Drive
Rear Wheel Drive
Front Wheel Drive
Front Wheel Drive
Front Wheel Drive
Front Wheel Drive
Passenger Capacity
5
5
5
5
5
5
Passenger Doors
N/A
N/A
N/A
N/A
N/A
N/A
Body Style
Sedan
Sedan
Sedan
Sedan
Sedan
Sedan
Transmission
Automatic
Automatic w/OD
Automatic w/OD
Automatic w/OD
CVT w/OD
Automatic w/OD
Detailed Spec Comparison
2019 Buick Lacrosse vs. 2019 Chrysler 300
2019 Buick Lacrosse vs. 2019 Kia Cadenza
2019 Buick Lacrosse vs. 2019 Lexus ES
2019 Buick Lacrosse vs. 2019 Nissan Maxima
2019 Buick Lacrosse vs. 2019 Toyota Avalon