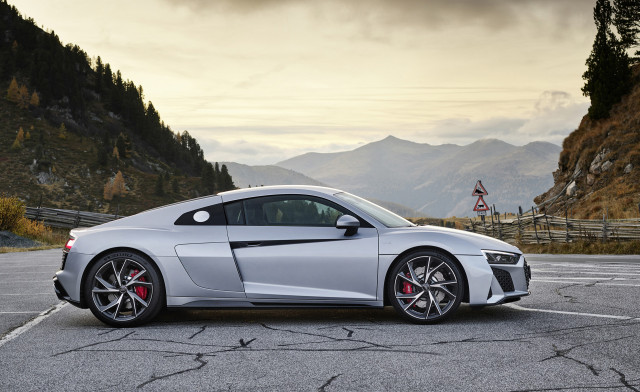 The 2020 Audi R8 supercar competes against others of its ilk, and we're jealous of all the above.
The Porsche 911 was our colleagues at Motor Authority's pick for Best Car To Buy 2020 thanks to its livability and everyday usability.
It's wonderful.
Chevy's new Corvette is mid-engine too—and about one-third of the price of the R8.
The two-door AMG GT is rarefied air among supercars, hotter versions are even more extreme.
The Nissan GT-R is relatively aged among the crowd but its performance never gets old and a hardcore Nismo version is just as entertaining.
2020 Audi R8Browse Used Listings
2020 Chevrolet CorvetteBrowse Used Listings
2020 Mercedes-Benz AMG GTBrowse Used Listings
2020 Nissan GT-RBrowse Used Listings
2020 Porsche 911Browse Used Listings
Quick Specs

The 2020 Audi R8 is a mid-engine superhero in a suit and tie. Its performance is blinding, even compared to high-dollar exotics.

The switch to a mid-engine design makes the 2020 Chevrolet Corvette faster in a straight line and around a track. Mission accomplished.

Powerful, track-ready, and comfortable, the 2020 Mercedes-AMG GT 4-Door Coupe can do it all.

The 2020 Nissan GT-R has a dated interior and isn't the value it used to be, but it's performance defies expectations.

The 2020 Porsche 911 improves upon the sports car icon's incredible performance while adding needed safety and connectivity features.

MSRP From
$169,900
$58,900
$99,950
$113,540
$97,400
Gas Mileage
13 MPG City / 20 MPG Hwy
15 MPG City / 27 MPG Hwy
15 MPG City / 24 MPG Hwy
16 MPG City / 22 MPG Hwy
17 MPG City / 24 MPG Hwy
Engine
Premium Unleaded V-10
Gas V8
Intercooled Turbo Gas/Electric I-6
Twin Turbo Premium Unleaded V-6
Twin Turbo Premium Unleaded H-6
EPA Class
Two Seaters
Two Seater
Compact Cars
Subcompact Cars
Minicompact Cars
Style Name
V10 quattro
2-Door Stingray Coupe w/1LT
AMG GT 53 4-Door Coupe
Premium AWD
Carrera Coupe
Drivetrain
All Wheel Drive
Rear Wheel Drive
All Wheel Drive
All Wheel Drive
Rear Wheel Drive
Passenger Capacity
2
2
4
4
4
Passenger Doors
N/A
N/A
N/A
N/A
N/A
Body Style
quattro Coupe
Coupe
Hatchback
Coupe
Coupe
Transmission
Auto-Shift Manual w/OD
Automatic
Automatic w/OD
Auto-Shift Manual w/OD
Auto-Shift Manual w/OD
Detailed Spec Comparison
2020 Audi R8 vs. 2020 Chevrolet Corvette
2020 Audi R8 vs. 2020 Mercedes-Benz AMG GT
2020 Audi R8 vs. 2020 Nissan GT-R
2020 Audi R8 vs. 2020 Porsche 911