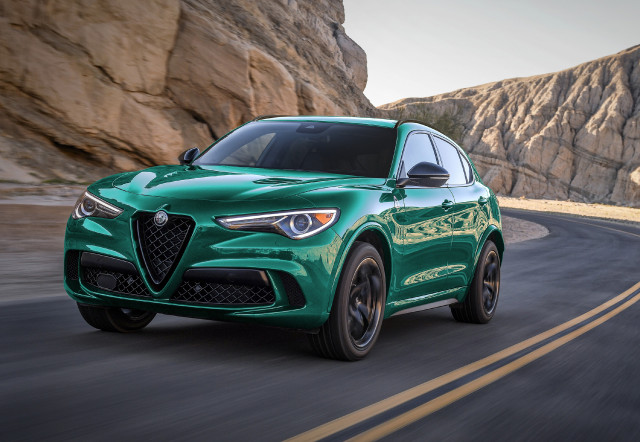 The Alfa Romeo Stelvio and its compact luxury competitors are the roomy alternative to the sporty sedan.
Audi Q5 has willing engines, appealing technology, and capable moves.
The BMW X3 aims for sportiness, especially with its X3 M model, which can dice up a racetrack.
The Mercedes-Benz GLC goes more for comfort and sophistication, with plenty of technology of its own.
The Jaguar F-Pace is the brand's best model, offering sport sedan moves and a high-performance model.
Of course, the Porsche Macan also specializes in power and handling, though at higher prices.
2022 Alfa Romeo StelvioGet Your Price
2022 Audi Q5Get Your Price
2022 BMW X3Get Your Price
2022 Jaguar F-PaceGet Your Price
2022 Mercedes-Benz GLC ClassGet Your Price
2022 Porsche MacanGet Your Price
Quick Specs

Sporty and attractive, the 2022 Alfa Romeo Stelvio is fun to drive but has a compromised rear seat.

The 2022 Audi Q5 crossover SUV goes long on everyday virtue—and on nimble road manners in the sporty SQ5 edition.

The 2022 BMW X3 crossover SUV has it all and does it all, from light off-roading to high-speed track scorching.

With sport sedan moves and SUV versatility, the 2022 Jaguar F-Pace proves why it's the British brand's bestseller.

The 2022 Mercedes-Benz GLC-Class runs the gamut from AMG track star to urbane oasis.

The best SUV to drive in this class, the Macan lacks more practical considerations.

MSRP From
$45,550
$43,300
$43,700
$50,900
$43,850
$54,900
Gas Mileage
17 MPG City / 29 MPG Hwy
19 MPG City / 29 MPG Hwy
15 MPG City / 29 MPG Hwy
15 MPG City / 27 MPG Hwy
16 MPG City / 28 MPG Hwy
17 MPG City / 25 MPG Hwy
Engine
Intercooled Turbo Premium Unleaded I-4
Intercooled Turbo Gas/Electric I-4
Intercooled Turbo Premium Unleaded I-4
Intercooled Turbo Premium Unleaded I-4
Intercooled Turbo Premium Unleaded I-4
Intercooled Turbo Premium Unleaded I-4
EPA Class
Small SUV 2WD
Small SUV 4WD
Small SUV 2WD
Small SUV 4WD
Small SUV 2WD
Small SUV 4WD
Style Name
Sprint RWD
Premium 40 TFSI quattro
sDrive30i Sports Activity Vehicle
P250 AWD
GLC 300 SUV
AWD
Drivetrain
Rear Wheel Drive
All Wheel Drive
Rear Wheel Drive
All Wheel Drive
Rear Wheel Drive
All Wheel Drive
Passenger Capacity
5
5
5
5
5
5
Passenger Doors
N/A
N/A
N/A
N/A
N/A
N/A
Body Style
Sport Utility
quattro Sport Utility
Sports Activity Vehicle
Sport Utility
Sport Utility
Sport Utility
Transmission
Automatic w/OD
Auto-Shift Manual w/OD
Automatic w/OD
Automatic w/OD
Automatic w/OD
Auto-Shift Manual w/OD
Detailed Spec Comparison
2022 Alfa Romeo Stelvio vs. 2022 Audi Q5
2022 Alfa Romeo Stelvio vs. 2022 BMW X3
2022 Alfa Romeo Stelvio vs. 2022 Jaguar F-Pace
2022 Alfa Romeo Stelvio vs. 2022 Mercedes-Benz GLC Class
2022 Alfa Romeo Stelvio vs. 2022 Porsche Macan