In-house financing dealerships, also called buy here pay here (BHPH) or tote the note dealerships, are both lenders and dealers. Instead of relying on outside lenders like banks and credit unions, these dealerships can offer you a car loan in addition to the vehicle. This may all sound peachy, but what's the catch? Read on to find out more.
In-House Financing Qualifications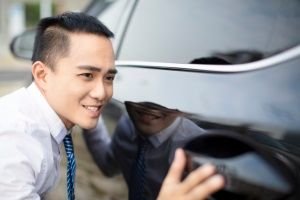 Unlike subprime lending, getting a car loan from an in-house financing lot can be easier with fewer qualifications. In addition to other factors, subprime lenders also look at your credit score to determine financing, whereas in-house dealers don't. In fact, most in-house financiers don't even run a credit check, so it doesn't matter what's on your credit reports.
Instead, these types of dealerships place a heavy emphasis on your income and down payment. The income requirement varies, but a good rule of thumb is to go with what most subprime lenders require: a minimum of $1,500 to $2,000 a month pre-tax, although it doesn't have to be W-2 income. As for the down payment requirement, you may find the amount needed to be much more than what a subprime lender asks for. It depends on the type of vehicle you want, and its selling price.
Pros and Cons of In-House Financing
Depending on your credit situation and needs, in-house financing can be a great option if you need a car fast. But, there are both pros and cons you need to be aware of.
Pros:
Fast and easy process – In-house financing can be a lot quicker than getting a loan from a subprime lender. You get to pick out a vehicle and get approved all in the same place, many times on the same day.
No credit check – In-house dealers don't care what's on your credit reports or what your credit score is. You could have a repossession or bankruptcy, and neither one usually affects your approval odds with an in-house dealership.
Cheaper cars – The vehicles on these lots are typically very affordable, but keep in mind that there's more to financing than the selling price of a car.
Cons:
Doesn't help improve credit – Because these dealers don't run credit checks, most don't report loans or on-time payments to the credit bureaus. However, they do report missed or late payments, which could end up lowering your score even more.
Higher interest rates – The interest rate you're offered hikes up the cost of the vehicles on these lots. You can typically expect an interest rate between 20 and 30 percent, so you end up paying more in interest charges.
Can't get a new car – The vehicles on these lots are cheaper because they're generally older models. This doesn't mean they're bad, it just means you need to be cautious when picking out a car.
Not Sure Where to Start Searching for Financing?
No matter what type of financing you want or need, The Car Connection can help you get started. We work with a nationwide network of special finance dealerships that have the lenders available to help. We connect people to dealers that have the proper lending resources for their situations every day. Simply fill out our no-obligation car loan request form today, and we'll get started on the process of matching you with a local dealership!