When you opt to use a down payment on an auto loan, you can save yourself money in the future. With credit issues, you're usually required to put money down on a car loan, so you should start saving for one as soon as possible.
Spend Now, Save Later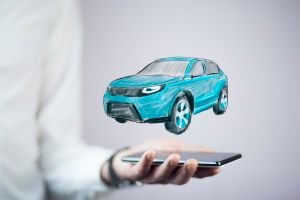 Requirement or not, a down payment makes smart financial sense when you're shopping for your next auto loan. A lot of borrowers may ask why they should spend now, when they could spend later. That's like saying why should you do anything today when you could put it off until tomorrow. In car loans, as in life, you never know what could happen to your vehicle tomorrow.
There are several reasons you should put money down on your auto loan, but one of the most appealing is the ability to save money in interest charges.
Due to the nature of car loans, which usually use simple interest, interest accrues daily based on the principal balance of your loan. When you make a down payment, you're lowering the amount you have to borrow, which means there's less money that collects interest charges in the long run.
Let's look at an example:
Say you take out an auto loan for a used vehicle without putting money down. If you borrow $15,000 for 60 months at 12% interest, you end up paying around $334 a month. When all is said and done, you've paid over $5,000 in interest charges, for a loan total of $20,020.
However, using the same scenario with an added $2,000 down payment, you only pay around $290 a month – a savings of almost $50 a month! Plus, you only pay $4,351 in interest charges, for a grand total of $17,351 overall. Even factoring in the money down, you're still saving over $650 overall!
Additional Reasons to Make a Down Payment
Savings aren't the only benefits you're likely to see from a down payment. It has the potential to shorten your loan term, lower your interest rate, lessen the chance of negative equity in your car, and/or help you stay out of negative equity altogether. Additionally, you may even qualify for a wider range of vehicles.
If these reasons aren't enough to convince you that putting money down is the way to go when you need a bad credit auto loan, maybe the fact that there are multiple ways to pay it will.
That's right, a down payment doesn't have to be made in cash alone. In fact, using a combination of assets is common when putting money down. Generally, you can make a down payment using cash, a trade-in with equity, or a combination of the two.
In rare cases, some lenders may allow you to put a small portion of a down payment on a credit card, but this isn't recommended, since you're going to end up paying interest on the charge.
Car Loan Down Payment Amounts
Now that you know a down payment is key to a car loan, you may be wondering just how much you're expected to put down. As a credit-challenged consumer, you're typically asked to make a down payment of at least $1,000 or 10% of a vehicle's selling price. Some subprime lenders may even accept the lesser amount of the two.
A thousand dollars down or 10% of the selling price might be the standard, but is that the amount you should plan on? The amount of money down required can vary by lender, and financial experts agree that putting down the most you can without digging too deep into your savings is typically a good game plan. Some say you should budget for 20% down for a new car and 10% on a used one.
Ultimately, you have to take into account your own budget, the price of the vehicle you're looking at, and how long you plan to pay for your loan. You can use our car loan estimator to see a rough gauge of an auto loan amount you might qualify for, and our monthly payment calculator to build a budget and plan a down payment amount that works for you.
Ready to Get Down to Business?
When a car loan is in your near future, The Car Connection wants to help! It's important that you know what your credit situation looks like so that you know which type of auto lender to finance with. Not all lenders have the resources to assist people who have lower credit scores. The subprime lenders that can are only found through special finance dealerships, and the fastest way to get connected to one near you is to fill out our car loan request form. It's free and there's never any obligation to buy. Get started right now!