2017 Honda Pilot
Enlarge Photo
The Honda Pilot is our current Best Car To Buy here at The Car Connection--but Nissan's Pathfinder has just received a slew of updates to make it more competitive.
These space-efficient, capable family vehicles offer just the right mix of flexible seating space, cargo capacity, and ride comfort—with all the safety features, interior amenities, and entertainment options that you might expect in such a core family vehicle.
MORE: Read our latest reviews of the 2017 Nissan Pathfinder and 2017 Honda Pilot

Both models completely bypass off-road intentions or any strong focus on sportiness, in favor of family function, but how do they compare?
In this case, the Honda handily outpoints the Nissan. (Read more about how we rate cars.)
Styling and Performance
The Pilot is rakish and sleek—a tall wagon, essentially. It's also very well finished, with a front end that appears lean and low, a refreshing counterpoint to the truck-like direction some vehicles in its class have taken. The Pathfinder is a refined family wagon as well. In design it's just a little more truck-like than the Pilot, thanks in part to 2017 changes to the front and rear to make it look more rugged.
While we'd put the Pilot slightly ahead to our eyes and sense of proportion, we think it's an even closer call inside. The Pathfinder's interior is simple and functional, yet aesthetically appealing and nicely finished—feeling perhaps influenced by the interiors in recent Infiniti models. Meanwhile the Pilot's interior looks a bit sportier and more complex, with a dual-tier layout and, thankfully, a single-screen infotainment system instead of the odd double-screen layouts in some other Honda models.
Dynamically, we wouldn't call either of these two models sporty, but the Pilot offers slightly more coordinated handling, thanks to a system that helps brake the inside rear wheel in tight corners, and to an excellent available all-wheel drive system. The Pilot also comes with a multi-mode system with special settings for snow, mud, or sand. As for the Pathfinder, it drives more like a heavy, softly sprung sedan—even with some firmer suspension tuning for 2017. We like the weighting of the steering, but ultimately there's not a lot of grip or inspiration.
The Honda Pilot has a 280-horsepower, 3.5-liter V-6 and 6- or 9-speed automatic transmissions (depending on the model). The Pathfinder also has a 3.5-liter V-6 that is upgraded for 2017 to improve horsepower from 260 to 284. Despite the similar numbers, the Pilot manages to ultimately perform better than the Pathfinder, with a 0 to 60 mph time in the mid 6-second range compared to mid 7s for the Pathfinder. Nonetheless, some people will appreciate the smooth, easy drivability afforded by the Pathfinder's continuously variable automatic transmission (CVT). For those in mountainous terrain, or for leadfoots, the Honda and its traditional automatic transmissions are probably going to be more satisfying.
The Pathfinder has the slight edge in fuel economy; in base form its EPA ratings are 20 mpg city, 27 highway, versus 19/27 mpg at best in the Pilot. The Pilot offers engine stop-start, and we've seen some pretty good real-world results in both of these vehicles.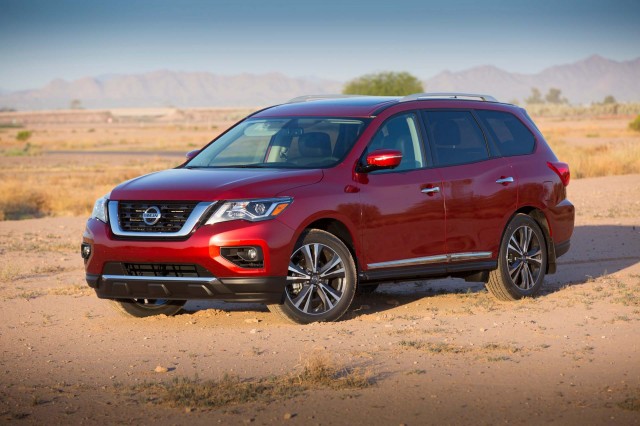 2017 Nissan Pathfinder
Enlarge Photo
2016 Nissan Pathfinder
Enlarge Photo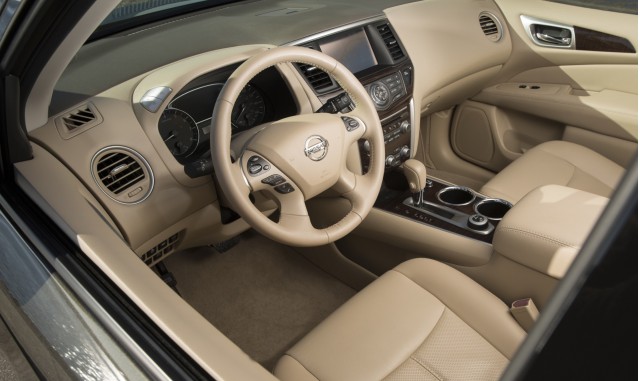 2016 Nissan Pathfinder
Enlarge Photo