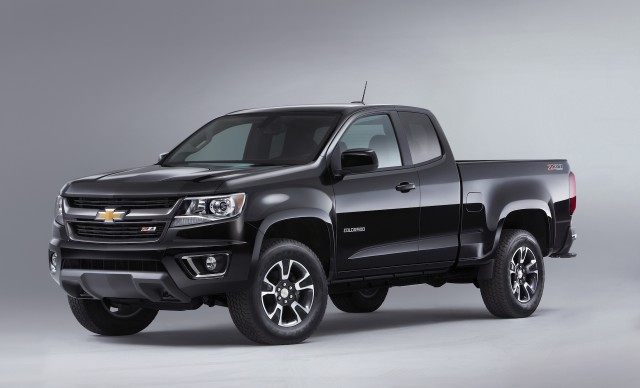 2016 Chevrolet Colorado
Enlarge Photo
If you want a pickup that's more manageable and maneuverable—and perhaps more fuel-efficient—than a full-size truck, the market is gradually coming back to life after years of stagnation. And the recently redesigned Chevrolet Colorado and Toyota Tacoma are both prime examples of this trend.
With these two models—as well as the GMC Canyon, which is nearly identical to the Colorado but offers unique styling—shoppers now have a set of relatively modern, well-conceived (albeit perhaps closer to mid-size than compact) alternatives to going large. Both models offer a choice of four-cylinder and V-6 engines, and the usual vast menu of cab and bed sizes, trim levels, and equipment packages; but there are some key differences between these two models.
Which should you choose? It depends on why you're buying a truck, as well as your expectations about features and cabin appointments. These two trucks take very different approaches, and you'll want to read on to understand some key points.
We choose the Chevrolet Colorado, given its obvious strengths in powertrains and ride comfort, and its unflappable towing and hauling numbers, rating it a 7 out of 10 overall. Our rating system has changed, so you may want to take a look at how we've derived these figures. 
Exterior styling is probably the closest place of overlap for these two trucks. Both build on some of the cues of their compact-truck predecessors but also embody something of the taller, blocker, more imposing look of today's full-size trucks. While the Chevrolet Colorado continues that likeness to full-size trucks inside, the Tacoma takes more of a conservative tack, very closely riffing on previous Tacoma layouts and keeping it simple, almost stark.
Likewise, the clear difference in interior-layout philosophies has resulted in some very different seating and ride-comfort realities in these trucks. The Chevrolet Colorado has great seats that are widely adjustable and have thigh support good enough for all-day drives. Ride comfort tends to be reasonably good, too, and these are very quiet trucks inside. On the other hand, the latest Toyota Tacoma feels a bit like it carried forth with old-style pickup cabin proportions. The driver's seat doesn't adjust for height or tilt, and there's not a whole lot of headroom. Ride comfort definitely tends to be a notch or two on the busy side compared to the Chevy.
What's under the hood of these trucks is comparable. In each, the flagship models are powered by strong V-6 engines. But at the base level, the Colorado has a four-cylinder engine—a 200-hp, 2.5-liter—that feels far stronger for everyday-driving situations than the 159-hp, 2.7-liter four in the Tacoma.
Go for the V-6 engine and these two trucks are far closer in performance. The Colorado's 3.6-liter V-6 makes 308 horsepower and is paired only with an 8-speed automatic transmission. Meanwhile, the 2017 Toyota Tacoma goes with a 3.5-liter V-6 that makes 278 hp and 285 pound-feet and also feels very strong and quick. The Tacoma V-6's faster-reacting transmission gives a slight edge as we see it, but we haven't actually driven a Colorado with its new-for-2017 8-speed automatic.