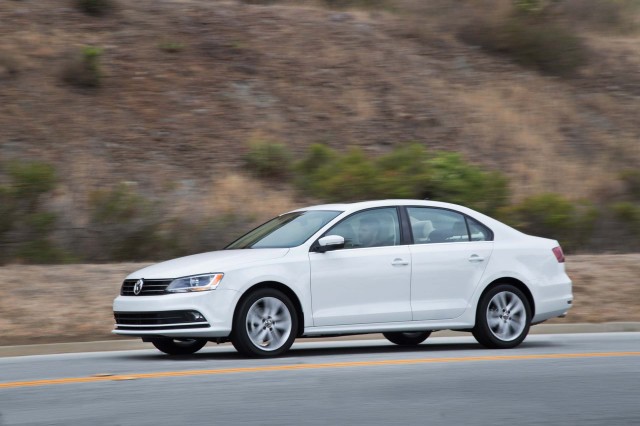 2017 Volkswagen Jetta
Enlarge Photo
The Volkswagen Jetta and Dodge Dart are both compact four-door sedans that have been around for a few years. The current Jetta dates back to 2011, while the Dart was launched for 2013. Both are remarkably spacious inside for the segment, but neither competes in the mainstream occupied by the Honda Civic, Toyota Corolla, Ford Focus, Chevrolet Cruze, and Hyundai Elantra.
The VW Jetta has a reliable niche as a sporty, fun-to-drive sedan; it's Volkswagen's best-selling U.S. model. The Dart, on the other hand, was the first new compact car from Fiat Chrysler after the unloved Caliber, and it hasn't made much of a dent in the market. Because it hasn't done particularly well, the Dart's last model year was 2016, while the Jetta is VW's bread-and-butter model. 
Still, there are good reasons to purchase either one, including good packaging and great value. The question is: which one should you choose?
MORE: Read our latest reviews of the 2016 Volkswagen Jetta and the 2016 Dodge Dart
The wide stance and low cowl of the Dodge Dart give it a more substantial look than competitors. The chunky, spirited lines provide a gravitas sometimes absent from affordable small cars. It neatly blends cues from its big brother, the Dodge Charger, with just the right hint of Neon friendliness. Inside, the flowing dashboard takes the look in sporty directions, and well-equipped models include a large 8.4-inch touchscreen display.
The Jetta's square-cut sedan shape and slab sides are starting to look dated. It's had a few subtle updates, but the Jetta was conservative when it launched and it remains that way today--but six years older. If you want style and flair in a compact sedan, you'd be better served by the Mazda 3, Ford Focus, or Hyundai Elantra. The German-inflected interior is straightforward and intuitive, although the largest touchscreen display (new for 2016) measures only 6.5 inches.
Both cars are almost shockingly spacious inside, with comfortable seats front and rear, and plenty of legroom. Despite the Dart's lines, the seating position isn't as low as you might expect. Both cars also still have large swathes of textured plastic. On the Dart, they're supplemented by soft and nicely coordinated surfaces on anything you might touch. Most Jettas have padding only where elbows might rest--though the texture and grain of their plastic hides its lower cost well. Note that neither car sits anywhere near the top of third-party quality and reliability ratings.
The littlest Dodge is heavier than most other compact sedans, and its standard 160-horsepower 2.0-liter four is sluggish under maximum power. The optional turbocharged 160-hp 1.4-liter engine has more torque, better acceleration, and a sportier, more responsive drive--if you keep your foot firmly into the accelerator. In part, that's because it's geared tall, to keep engine revs low at highway cruising speeds. If you're willing to sacrifice fuel economy, the best option is the 184-hp 2.4-liter four-cylinder in higher-end models.
Jetta engines have been entirely refreshed over the last few years—although Volkswagen's TDI diesel engines aren't offered for 2016, if ever again. For 2016, the base engine is a 150-hp turbocharged 1.4-liter inline-4 that's peppy and delivers power across a wide range of engine speeds. It only sacrifices 20 hp to the more powerful 1.8-liter turbo in the SEL trim. The sportiest model is the Jetta GLI 2.0T, with a 210-hp 2.0-liter turbo-4 that comes with a 6-speed manual gearbox or VW's 7-speed dual-clutch automatic.